D-Link launches 'Buy a 10G switch, get a 10G adapter' promo for 10-Gigabit Ethernet-over-Copper products
D-Link has announced a promotion featuring two of its newer, complementary 10-Gigabit Ethernet-over-Copper products.
Jul 15th, 2015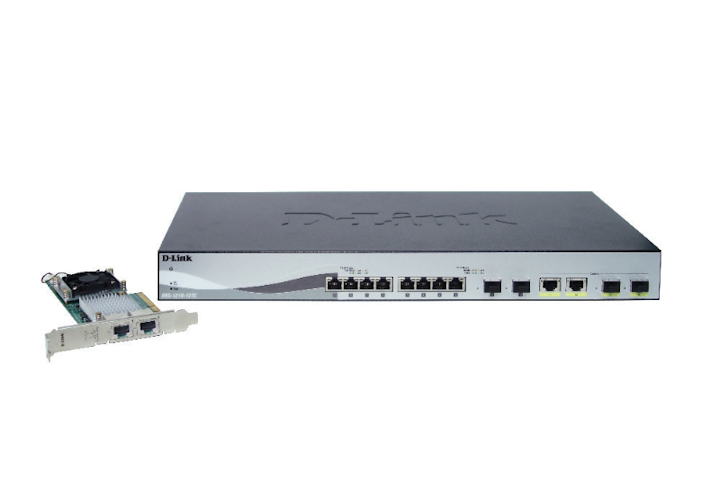 D-Link has announced a promotion featuring two of its newer, complementary 10-Gigabit Ethernet-over-Copper products. Valid from now until Sept. 30, 2015, customers who purchase a new 10-Gigabit Web Smart Switch (DXS-1210-12TC) from D-Link will be eligible to receive a free dual-port 10GBASE-T network adapter card (DXE-820T).
The 12-port DXS-1210-12TC is part of D-Link's Web Smart family of 10/100, Gigabit, and 10-Gigabit smart switches. It has eight (8) 10GBASE-T copper ports, two (2) 10-Gig SFP+ ports, and two (2) 10-Gig "combo" ports, which can be used as either copper or fiber. It supports all the advanced Layer 2/Layer 2+ switching and security features for which D-Link's Web Smart series is well-known. It also offers a limited lifetime warranty, underscoring D-Link's commitment to product quality and long term customer confidence.
The DXE-820T adapter supports a high-performance PCI Express v2.0 interface and has two 10GBASE-T RJ45 ports. Advanced features include 802.1Q VLAN, 802.3x flow control, 802.3ad teaming, Jumbo frame support, SNMP statistics, and TCP/UDP/IP checksum offloading.
In a press release, D-Link notes that "10GBASE-T technology supports full 10Gbps speeds up to 100 meters (328 ft.) on CAT-6A or better LAN cabling, and shorter distances are also achievable on lesser CAT-6 cabling. It also supports slower 100/1000Mbps speeds up to 100 meters using CAT-5e or better. The technology provides a lower cost alternative to 10G fiber applications. 10-Gigabit Web Smart switches can be used throughout a typical corporate network including the edge (10G to the desktop), aggregation layer, or top of rack switching, in server/storage closets."
"As 10-Gigabit technology continues to mature and become more affordable, 10-Gigabit Ethernet products become the sought-after solution for a faster business network," said Steven Olen, director of product marketing, D-Link Systems, Inc. "With 10-Gig Smart Switches from D-Link, business networks of all sizes can now afford 10-Gigabit speeds and performance, and this promotion now makes upgrading to 10-Gig even more compelling."
The DXS-1210-12TC Web Smart 10-Gigabit Ethernet Switch (MSRP $2,299.99) and DXE-820T dual-port 10GBASE-T Network Adapter (MSRP $529.99) are available through D-Link's network of channel partners, including value-added resellers and distributors and online retailers. Detailed specifications are available online at D-Link's website.
The new promotion is open to any end-user customer in the U.S. who purchases a new DXS-1210-12TC switch from a D-Link value added reseller, CDW, Insight, PC Connection, PC Mall Provantage, or Zones. Claiming the free 10G NIC is easy – just fill out an online claim form and provide proof of purchase when contacted by D-Link. D-Link will then ship the DXE-820T product at no charge. The promotion is limited to one free NIC per end user.
The rebate claim form can be found here: http://us.dlink.com/business-solutions/free-10-gigabit-nic-card/.