Rail-mounted pluggable surge protection devices
ASI's DIN-rail-mountable surge protection devices adhere to the 3rd edition of UL 1449.
Jul 27th, 2015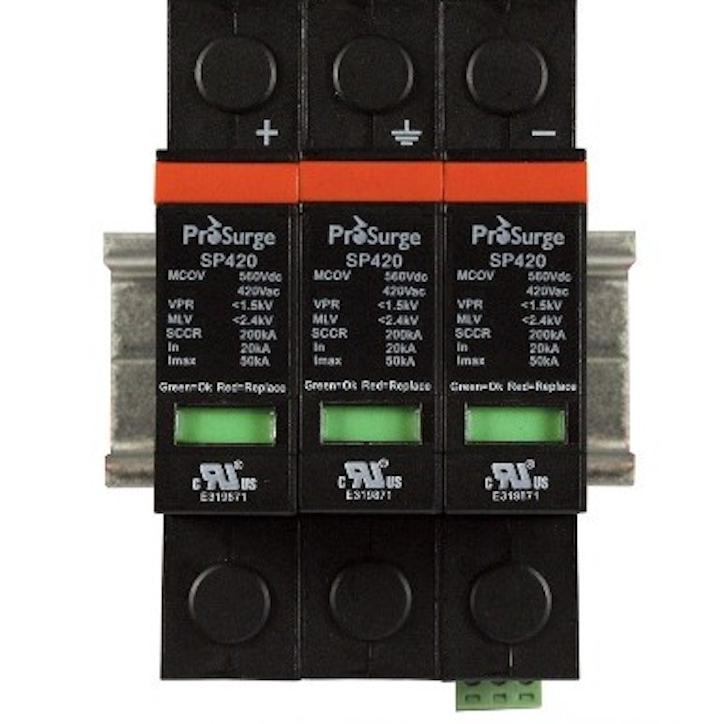 Automation Systems Interconnect Inc. (ASI) recently announced the availability of a full complement of UL 1449 3rd Edition-recognized DIN-rail-mounted pluggable surge protection devices that the company explained "protect against transient overvoltages, spikes and impulses in industrial applications." ASI added that the product offering includes surge protection devices specific to solar and wind turbine industry needs. "Each year an average home is impacted by up to 2,000 of these surges," ASI said. "In an industrial setting these types of surges cause equipment damage, lockup and malfunction, which translates into expensive downtime, repair and replacement costs."
ASI characterizes its surge protection devices as affordable, with a DIN-rail-mountable base and pluggable MOV, GDT, or MOV/GDT modules "with unique voltage keying, which assures the correct plug is inserted into the correct base.
"These products are UL Type 4 recognized and can be used in Type 1, 2, and 3 applications," the company added. "A remote alarm contact with visual indicator allows for easy status monitoring and quick reaction in critical situations. Factory-tested for SCCR rating of 200 kA, and KEMA Certified to IEC 61643-11 2011, Class II."
You can find more information on these and other surge protection devices available from ASI here.