Gigabit-speed copper-to-fiber converter
FiberPlex's TIS-8632 copper-to-fiber converter, with two pluggable singlemode or multimode SFP ports and four RJ45 ports, can be daisy-chained.
Apr 29th, 2015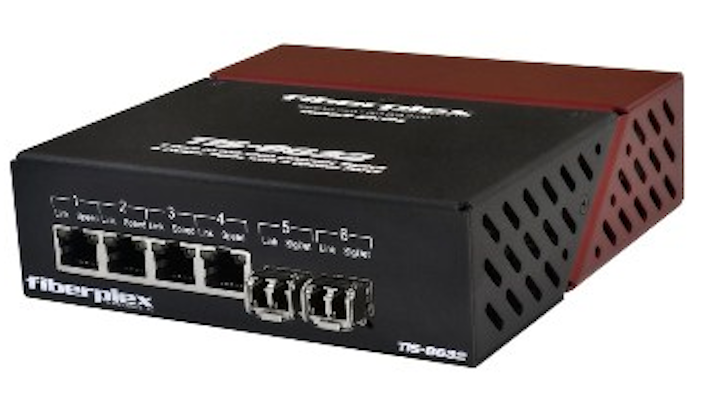 FiberPlex describes its TIS-8632 copper-to-fiber converter as "a six-port Ethernet switch that interfaces Cat-based networks to fiber-optic communications. The unit features two pluggable SFP ports for singlemode or multimode optical fiber and four RJ-45 ports to extend IT data distribution beyond copper cabling's 100-meter limitation, or to isolate a path between nodes for security or noise-immunity purposes."
Buddy Oliver, FiberPlex's president, added, "Our new TIS-8632's combination of Ethernet SFP support and bussed DC power capability creates a powerful yet affordable option for distributed Ethernet solutions in the IT or AV space."
Multiple TIS-8632 units can be daisy-chained together—via fiber or copper depending upon distance requirements—and can be used to add multiple AV elements like distributed IP video cameras onto the network, or to isolate a conference room for security purposes, FiberPlex pointed out.
"The TIS-8632 is part of the TD Import Series and supports SFPs for 10/100/1000 Ethernet as well as GbE fiber-optic communications, either singlemode or multimode, or both, for bridging the two together," the company explained. "It is designed to be an affordable, reliable workhorse for use in various commercial and industrial environments. The TIS-8632 can be DIN-rail mounted and up to three TIS-8632 units can be installed in an optional 1U TDR-01 rack shelf. It is powered by either a 9VDC AC power adapter, which is included, or via bussed power supplied through an integrated three-pin Phoenix connector."
FiberPlex adds that the TIS-8632 copper-to-fiber converter can be used in conjunction with the company's media converters and wavelength division multiplexers as part of a complete fiber-optic network.