Multi-port 60W PoE Gigabit media converters
Omnitron's OmniConverter GHPoE/S, which is 802.3af and at compatible, is classified power sourcing equipment that can power up to two, 60W PoE devices.
Apr 28th, 2015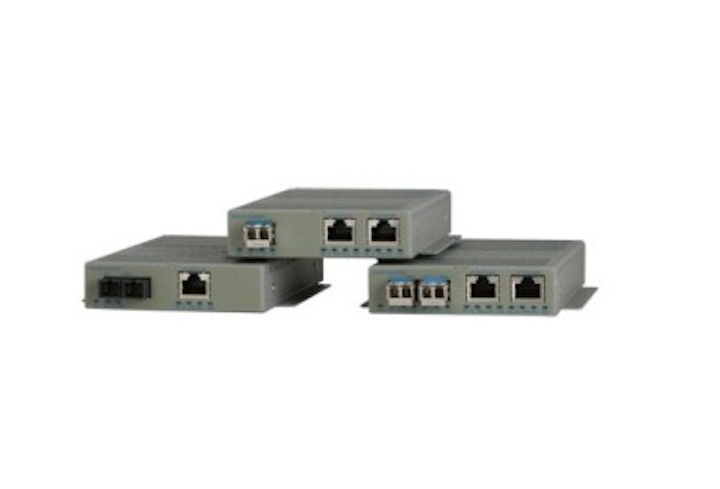 Omnitron Systems Technology recently introduced the OmniConverter GHPoE/S, which the company described as "the first multi-port, 60 Watts Power over Ethernet Gigabit media converter." Omnitron explained the converter is compatible with IEEE 802.3af PoE (15 Watts) and 802.3at PoE Plus (30 Watts) standards, and "provides 100/1000-Ethernet-fiber-to-10/100/1000-copper" as a media converter. "It is classified as Power Sourcing Equipment (PSE) capable of powering up to two, 60 Watt Powered Devices using the same UTP cables that carry the Ethernet data."
The company continued, "There are now more than 100 million devices powered by PoE, yet the nominal amount of power delivered has limited the ability to deploy power-hungry PoE devices like outdoor pan/tilt/zoom (PTZ) cameras with blowers and heaters, and multi-band wireless access points. In addition to the increasing power required by PoE devices, the 100-meter distance limitation of UTP cabling is a challenge in large facilities like airports, arenas, building complexes, and government facilities."
The OmniConverter GHPoE/S can power latest-generation, high-power 60W PoE devices that have emerged on the market, and can extend distances with fiber cabling, Omnitron explained. "The multi-port GHPoE/S functions as a PoE mini-switch, with optional dual fiber ports and dual RJ45 ports," the company added. "Dual fiber ports enable daisy-chain topologies to cascade multiple media converters, or redundant fiber links for critical applications with less than 50ms failover." The dual RJ45 ports can simultaneously power two 60W PoE powered devices. Other product features include link fault propagation modes and PoE Power Reset function, which enables remote powered devices to be reset—eliminating the need for truck rolls and dispatching personnel to remote powered-device locations.
OmniConverter GHPoE/S models are available with fixed-fiber or small-form-pluggable (SFP) transceivers, enabling easy adaptability to different fiber types, distances, and wavelengths. They are available for commercial applications, or temperature hardened to -40 deg to +75 deg C.