Platinum Tools' patented EZ-DataLock strain relief prevents accidental/malicious Cat 5e, Cat 6 cable disconnects
For improved cable management, Platinum says its new network jack design prevents unauthorized access, downtime, and tampering.
Apr 30th, 2015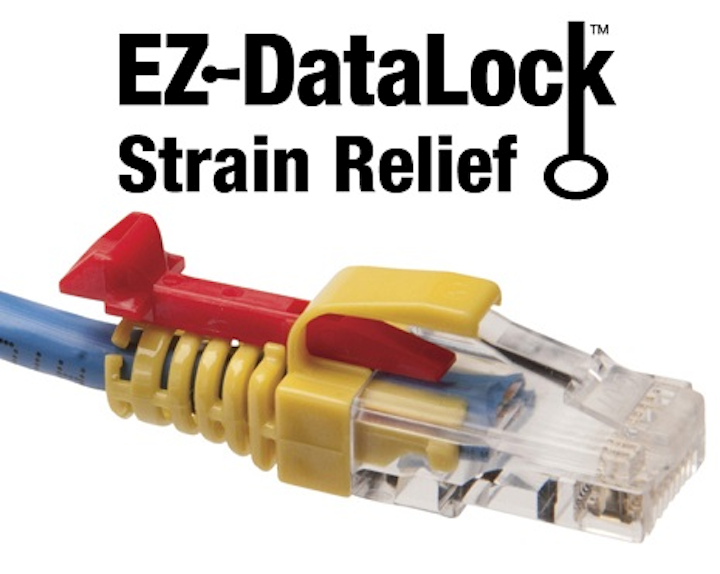 Platinum Tools, a specialist in products for the preparation, installation, hand termination and testing of wire and cable, announced that it will feature its patented EZ-DataLock Strain Relief design for locking cables during InfoComm15, to held in Orange County Convention Center in Orlando, Florida, from June 17 -19, . Designed to secure network cables from tampering, the EZ-DataLock is now shipping.

"Safe and secure networks, large or small, in today's world is top priority," explains Lee Sachs, Platinum Tools, Inc. president and general manager. "Taking control of the network with our new EZ-DataLock Strain Relief is enabled by locking cables in place. When locked, the cable will remain so until the 'Key-Holder' unlocks it. It also doubles as a snag-proof strain relief."
The EZ-DataLock strain reliefs are available in two sizes and work with Platinum Tools' EZ-RJ45 Cat 5e connectors, and all standard RJ45 (all brands including Platinum Tools) and Platinum Tools EZ-RJ45 Cat 6 connectors. Specifications for the EZ-DataLock Strain Relief include patented 'OD-Flex' technology allows for wide range of cable OD sizes (maximum cable OD: 6.8mm /0.268 inch; minimum cable OD: 5.0mm /0.197 inch); made with polycarbonate materials; and are UL, RoHS, CSA and CE compliant.
Sachs added, "The Platinum Tools EZ-DataLock Strain Relief's patented design prevents inadvertent and malicious cable disconnects, unauthorized access, downtime, and tampering in numerous applications, such as in data, commercial and professional, military, medical centers, monitoring devices, financial, transit, government, and manufacturing centers and institutions."

Visit Platinum's booth #179-4 at Infocomm15.