Tool-less Category 6A connector
trans data elektronik's Category 6A connector module accommodates 24-22 AWG cable.
May 5th, 2015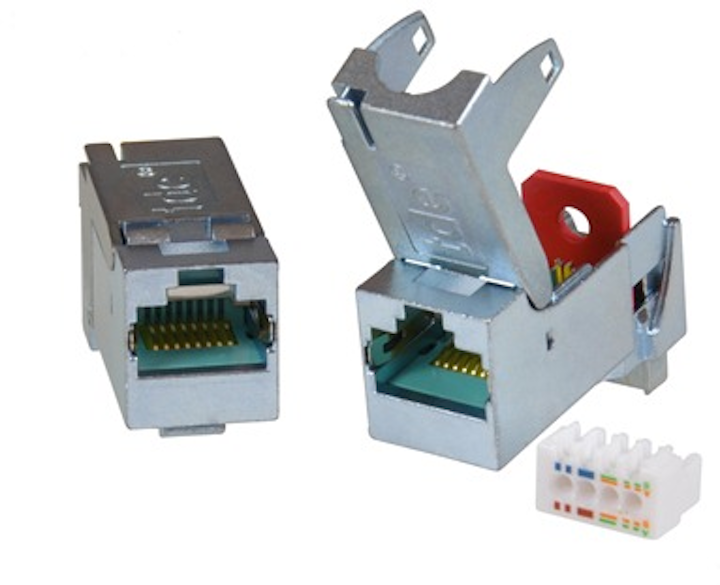 The latest copper cabling component from trans data elektronik, tde, is the tBL RJ45 keystone module, a Category 6A connector that is part of the tBL—tde Basic Link—product line. "The module can be mounted on the cable without additional tools," the company explained when introducing the product May 5. "The module provides excellent performance," tde added. The Category 6A connector module is certified by independent test laboratory GHMT AG to conform to Category 6A performance specifications up to 500 MHz. The module accommodates cable with 24-22 AWG conductors.
tde further explained that the Category 6A connector module's housing, "with installation dimensions of 19.2x14.6 mm, is made of zinc die-cast and serves as excellent shielding." The company's chief executive officer, Andre Engle, commented, "We are delighted to offer our customers the RJ45 module, which facilitates the work of network technicians. The tBL RJ45 keystone module ensures a quick and easy cable termination. Additional tools are not required.
"A further advantage is the price-performance ratio," Engel added. "The new module requires little installation effort, and in this way not only helps users save time, but also costs."
The tBL product line also includes multi-design wall outlets, floor box frames, consolidation point housing, DIN rail modules, and 19-inch patch panels.