Media converters slash Gigabit Ethernet-to-fiber connectivity costs in harsh industrial environments
Moxa says its model IMC-21GA Gigabit Ethernet-to-fiber media converter makes it more affordable for industrial users to add high-bandwidth transmission distance to deployments.

May 12th, 2015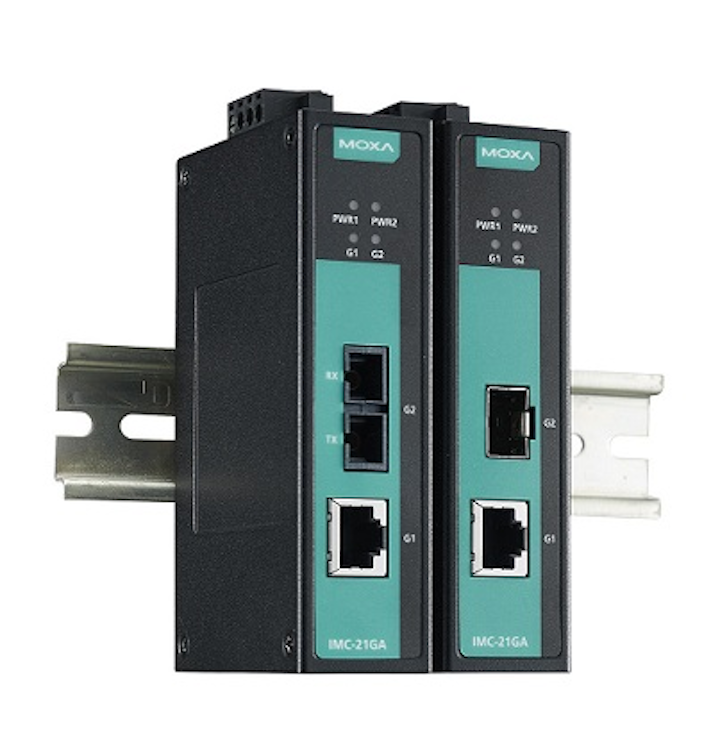 The cost of Gigabit fiber conversion can be prohibitively high for many industrial users, when network links need to be extended beyond the 100-meter limit imposed by UTP copper cable. To combat this problem, Moxa has introduced its IMC-21GA Gigabit Ethernet-to-fiber media converter, engineered for harsh industrial environments. Especially effective in high-bandwidth applications, such as megapixel machine vision inspection or IP video surveillance, the IMC-21GA is described as "an exceptionally full-featured and cost-effective option for converters in its class, with an MSRP for entry-level models beginning at under $200 (USD)."

The IMC-21GA provides reliable and transparent conversion of 1000BaseT(X) to 1000Base-SX/LX or select SFP module media, so links can be extended to allow real-time, end-to-end management of devices several miles away, while also protecting data from noise and interference better than copper. Taking this step also future-proofs the network with additional bandwidth capacity and scalability, notes Moxa. Both IEEE 802.3az (Energy Efficient Ethernet) and 10K jumbo frames are supported, resulting in reduced power usage and enhanced transmission performance by increasing the networks' throughput and eliminating congestion.

Like all Moxa networking products, the new IMC-21GA media converter is industrial-grade. It comes equipped with a relay output warning alarm, and is available in models that support a standard operating temperature range of 0° to 60°C (32° to 140° F), and an extended operating temperature range of -40 to 75°C (-40° to 167° F). The converter's advanced Link Fault Pass-through monitors the state of the link to end devices and ensures that each end-point knows whether the entire link is operational.

"Network connectivity is more important than ever for our users to benefit from the industrial Internet of Things," concludes Paul Wacker, product marketing manager for device connectivity for Moxa Industrial Wireless. "The IMC-21GA is an attractive new option for engineers trying to establish reliable high bandwidth network connectivity over long distances, such as for remote IP cameras."