Tool-free, field-mountable Category 6A connector
R&M's FM45 Category 6A connector can be used for commercial, residential and industrial applications.
Jan 22nd, 2016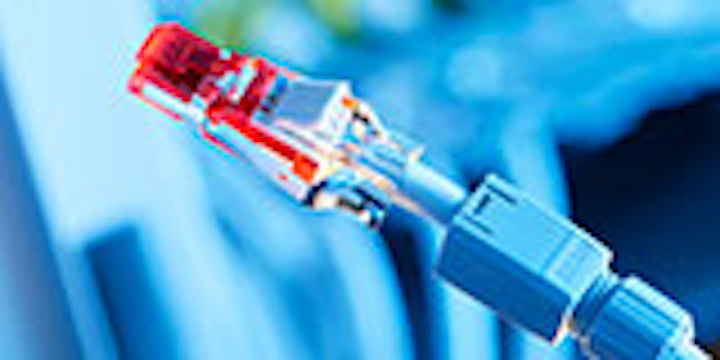 Swiss cabling system provider R&M recently introduced the FM45 Category 6A connector. The company explained the connector "is used for the flexible installation of Class EA channels in accordance with the ISO/IEC 11801 standard. It meets all the requirements for demanding network operation with 10 Gigabit Ethernet. Its specifications and attenuation values surpass the parameters defined in the standard."
The FM45 Category 6A connector is mounted without the use of tools, R&M said. "Shielded and unshielded stranded and solid cable with diameters of up to 8 mm can be reliably wired in just a few easy steps. First, the installer inserts the copper cable's 8 conductors into the wire guide in line with the colored label and cuts off the excess length with side-cutting pliers. Stripping of conductors is no longer needed. When pressing the wiring cover closed, contact is made by means of IDCs [insulation displacement connections] … A further step involves the housing being pushed over the wire guide and fixed using a box not. This completes the termination of the connector. As an option, you can attach color-coding elements or IP protection sleeves. The basic version complies with the requirements of the IP20 protection index and the shielded version with all requirements of the IP67 protection index. In the case of the IP67 type, a round sleeve protects against penetration of dust and liquids."
The tin-coated IDCs "guarantee gas-tight, vibration-resistant and corrosion-protected wiring with tensile strength and long-term stability," the company added.
R&M described the following applications for which the FM45 Category 6A connector can be used.
Structured LAN cabling in offices
Power over Ethernet Plus
Individually tailored installation of direct connections to devices and bulk connections or switch links (saving on excess lengths, outlets, patch cords)
The creation of special-length patch cords or crossover cables in minutes
Industrial Ethernet, bus and data connections in building automation, security and communications technology and home networks
Retrofitting wireless LAN access points for better coverage inside and outside buildings
Spontaneous network installations for concerts, trade fairs and events
Practical support for servicing and maintenance, temporary installations or when repairing networks