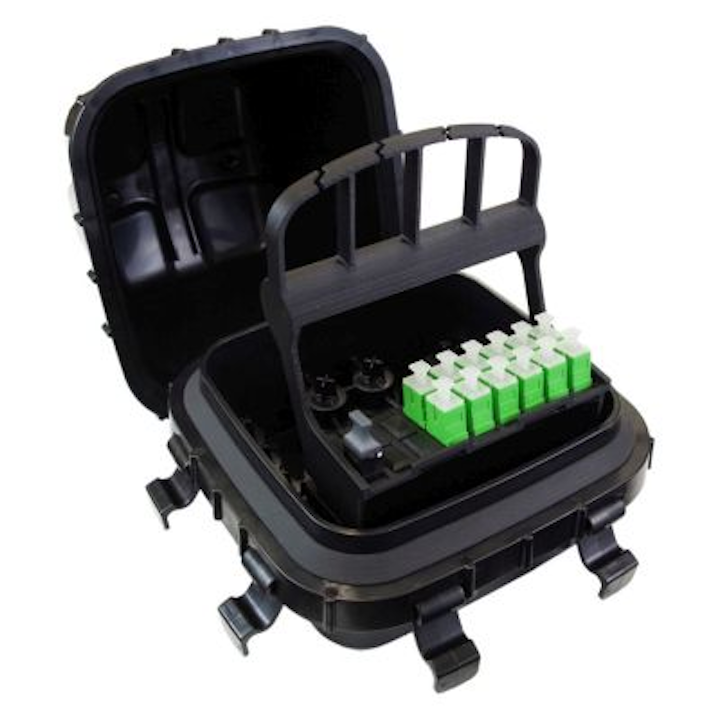 Clearfield Inc. recently added hardened optical fiber terminal, test access point and drop cable options to its FieldShield line of fiber-protection system products. "The YOURx enclosures are designed to ensure every service provider has the freedom of choice to match drop cable technology with the needs of their environment and first-cost priorities," the company said when introducing the fiber connectivity products at the ISE Expo, which was held September 20-22. "Building upon the FieldShield pushable fiber and microduct pathway product line, which links thousands of consumers to their broadband networks today, the YOURx enclosures and drop cable options simplify fiber deployment, reduce initial capex and minimize long-term opex costs."
The YOURx product line gives service providers the means to bring ultrafast broadband to customers as readily and cost-effectively as possible, Clearfield emphasized. The platform includes the following elements.
FieldShield YOURx Terminal (pictured above)—a hardened optical service terminal that supports any drop and FieldShield microduct, increasing installation efficiency with a single inventory item that services multiple network designs in above- or below-grade environments
FieldShield YOURx-TAP (pictured immediately below)—the smallest test access point enclosure in the industry, Clearfield says; it accommodates two FieldShield Deploy Reels, each storing slack fiber of up to 300 feet of 900-micron FieldShield StrongFiber or 50 feet of 3-mm FLEXdrop, allowing a 10:1 space savings, versus other options, in slack storage at the demarc.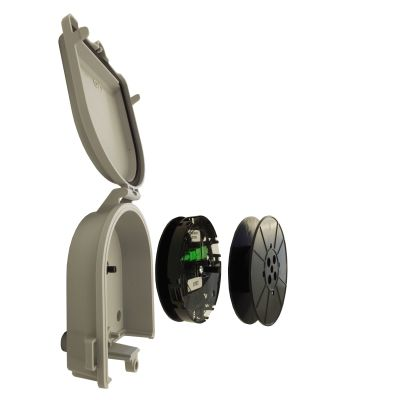 Drop cables route through the YOURx platform using a Flex Port opening. Three new drop cable options include FieldShield Flat-SC, FieldShield D-ROP, and FieldShield FLEXdrop. FieldShield Flat-SC is designed for traditional flat-drop cable connectivity, but removes the cost or need for bulky connectors. FieldShield D-ROP is a preconnectorized restorable one pass (R-O-P) drop cable delivered to the market preplaced in a FieldShield 7-mm microduct. This single-pass deployment provides ease of restoration in the event of a fiber cut, Clearfield notes. FieldShield FLEXdrop is for aerial and buried environments in the outside plant or plenum and riser-rated configurations in the inside plant. It gives installers flexibility to satisfy multiple environments with a single solution, Clearfield emphasizes.
Bryan Perry, assistant director of Spanish Fork Community Network, implemented YOURx technology and commented, "We were looking for a bend-insensitive fiber that would be 'technician-proof.' Our trial experience with the FieldShield FLEXdrop fiber [pictured below] was very positive. We used FLEXdrop to run connectivity from the pedestal at the street to the residence, running it externally on the house and then into the home along a/c route paths, through rafters and into the basement final termination point. The design of this fiber provides flexibility of movement that made it very easy to follow tight bends and existing route paths."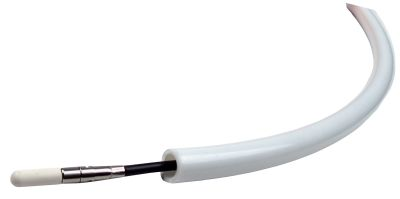 YOURx's emphasis on minimizing capex and opex costs in the last mile addresses a compelling business need, according to OVUM principal analyst Julie Kunstler. "Many service providers cannot make the business case for FTTH networks due to the high labor, design and inventory costs associated with the home connection. Clearfield's focus on space-saving designs and numerous fiber drop cable choices provides service providers with flexibility, enabling them to increase FTTH deployment targets with minimal training in the field and reduced inventory."
The platform is scheduled for general availability in October.
Learn more: Search the Cabling Installation & Maintenance Buyer's Guide for companies, new products, press releases, and videos