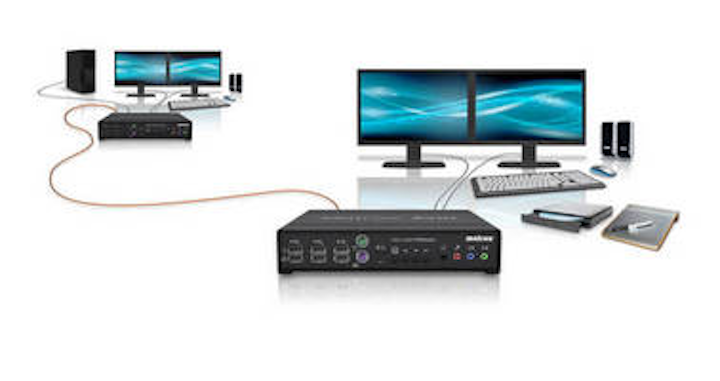 Matrox Graphics (Montreal, Canada) has introduced the Matrox Avio F125, a fiber-optic KVM extender that separates dual HD video, keyboard, mouse, stereo analog audio and USB 2.0 devices from a workstation.

The Avio F125 features flexible connectivity options. Its transmitter/receiver pair extends two single-link DVI (2x1920x1200) or one dual-link DVI (2560x1600 or 4096x2160) video, and multiple high-speed USB 2.0 compliant devices from the host computer by up to 400 m (1312 ft) over multimode cable and 4 km (2.5 mi) over single-mode cable.

According to Matrox, the Avio F125 stands out for its ability to transmit all signals with zero compression and zero latency on a single duplex LC-LC fiber-optic cable. Designed for high-performance environments, the fiber-optic KVM extender delivers fluid graphics and video playback, making it ideal for broadcast, post production, Pro A/V, industrial process control, oil and gas, 3D design and visualization, and military environments.

Related: H.264-based encoder/decoder streams HD video over standard IP infrastructures

"Matrox Avio F125 is the latest addition to our successful KVM product line and is designed to address our customers' need to extend high-speed USB 2.0 devices and high resolution digital video in demanding environments," comments Caroline Injoyan, business development manager at Matrox Graphics. "Avio F125 takes advantage of the full 10Gbps bandwidth that fiber-optic technology offers us today, transmitting all data uncompressed and with zero latency."

The Matrox Avio F125 KVM extender's key features summary includes the following:

• Smooth HD, 2K and 4K video playback without any dropped frames
• Maximum distances of 400 m (1312 ft) in multimode and 4 km (2.5 mi) in single-mode via an optional upgrade
• Keyboard and mouse extension via two USB HID ports or PS/2 connectors
• Four USB 2.0 ports on the receiver unit for USB 2.0 high-speed peripherals, including support for isochronous audio and video devices
• Local outputs on the Avio transmitter unit for easy maintenance or to share the remote the desktop on a collaborative video wall
• DDC compliance and advanced EDID management for reliable communication between the remote monitors and host system
• Rack mountable or stand alone units
• Plug-and-play design for easy deployment with no software installation
• Compatibility with Microsoft Windows, Linux, UNIX and Mac OS X operating systems

The Matrox Avio F125 KVM extenders include transmitter (AV-F125TXF) and receiver (AV-F125RXF) units that will be available as of Q2 2013. Matrox will be showcasing the KVM extender at NAB 2013 booth #SL4616, from April 8-11, 2013. For more information, visit www.matrox.com/graphics.
More: Video recording software captures data center sessions accessed remotely via KVM-over-IP