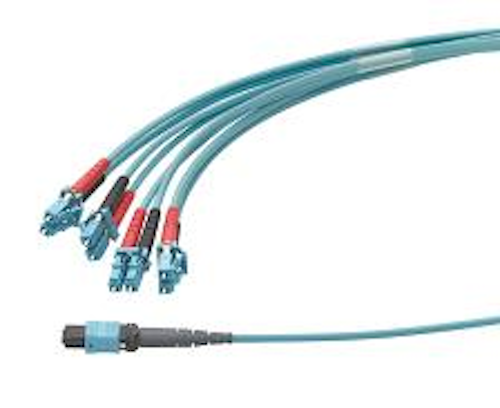 Leviton recently announced a new set of conversion fiber harnesses, now available as part of the company's Opt-X Unity parallel-to-duplex fiber-cable assemblies. "The harnesses are necessary in converting 10G [SFP+ applications] that interface with 40G [QSFP+] or 100G [CFP, CXP] ports," the company explained. "The harnesses join an MTP connector on one end with 4, 10 or 12 duplex LC connectors on the other end."
David Mullen, senior product manager for fiber at Leviton, said the new harnesses "provide a simple way to break out 40-GbE or 100-GbE connections into individual 10-GbE channels. It's a smart way to use the QSFP+, CFP and CXP transceivers as a high-density 10G application."
Several options are available: 8-fiber for 40G, with four legs for QSFP+ transceivers; 24-fiber for 100G, with 10 legs for CXP transceivers; and 24-fiber for 120G, with 12 legs for CXP transceivers.
Leviton further explained the conversion harnesses feature small-diameter cable, which is particularly advantageous in high-density applications. They also use bend-insensitive fiber, "creating lower risk for pinched cables," the company said. "The duplex LC connections are also offered in a uniboot option with reversing polarity. In addition, Leviton offers conversion cassettes through the e2XHD Patching System as an alternative to the harnesses."
The harnesses are available in OM3, OM4 and OS2 options, and in common lengths of 6 and 10 feet; additional lengths are available on request. They can be custom-configured online, Leviton pointed out, as part of the company's Make-to-Order program. You can access the online 8-fiber harness configurator here, and the 24-fiber harness configurator here.