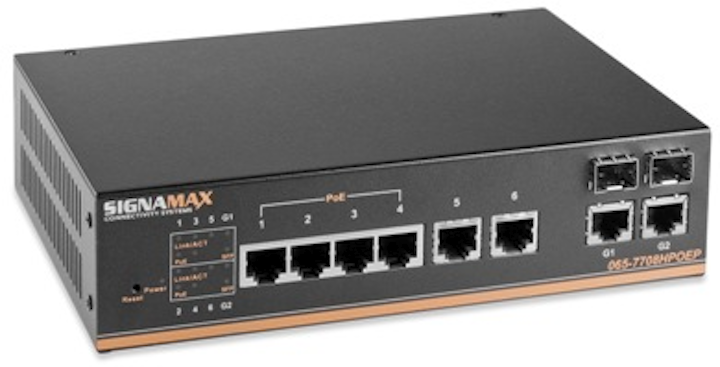 Signamax Network Connectivity Systems recently made available a series of managed hardened PoE+ industrial DIN-mount switches, as well as a managed desktop hardened PoE+ industrial switch. "These switches are designed to operate in rugged environments with extreme temperature conditions," the company said when announcing their availability. "They are equipped with a variety of 10/100Base-T/TX RJ45 port configurations," in addition to different variations of 802.3af PoE and 802.3at PoE+ support depending on the model.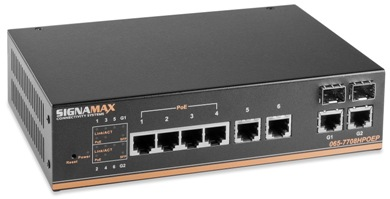 "These managed hardened PoE+ industrial switches function at temperatures ranging from -40 to +167 degrees F (-40 to +75 degrees C), and is tested for functional operation at even greater extremes: -40 to +185 degrees F (-40 to +85 degrees C)," Signamax noted. "These are fully managed switches, with system administrator control via SNMP v.3, web browser, Telnet or a local console port mounted on the front panel for easy access. PoE+ support allows the 065-77xxHPOEP DIN-rail mount series and the 065-7708HPOEP desktop switch to handle pan/tilt/zoom IP security camera requirements; Recover-Ring capability allows redundant ring network recovery in less than 20 ms, making these ideal switches for perimeter security requirements."
They also support features such as 802.1Q VLAN, MAC-based trunking, IP-Multicast IGMP Snooping, Rapid Spanning Tree for redundancy, QoS for priority queuing, and port mirroring for easy implementation of resilient, high-capacity networks supporting critical security and public-safety applications over Gigabit Ethernet copper and fiber backbones, Signamax explained. "Individual administrators or network operations centers may also choose to perform remote monitoring and configuration using the web browser or Telnet interfaces, or from overlay management systems such as HP OpenView or IBM/Tivoli NetView via SNMP and RMON," the company said. "These switches also support rate control for individual port maximum bandwidth settings, to support high-granularity network control."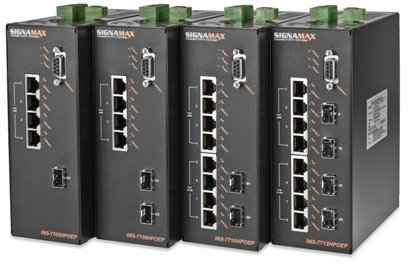 Signamax has developed product-specific web pages—for the Model 065-7708HPOEP (managed desktop hardened PoE industrial switch) here and for Models 065-7705HPOEP, 0655-7706HPOEP, 065-7710HPOEP, 065-7710H6POEP and 065-7712HPEOP (managed hardened PoE Plus industrial DIN-rail mount switch series) here.