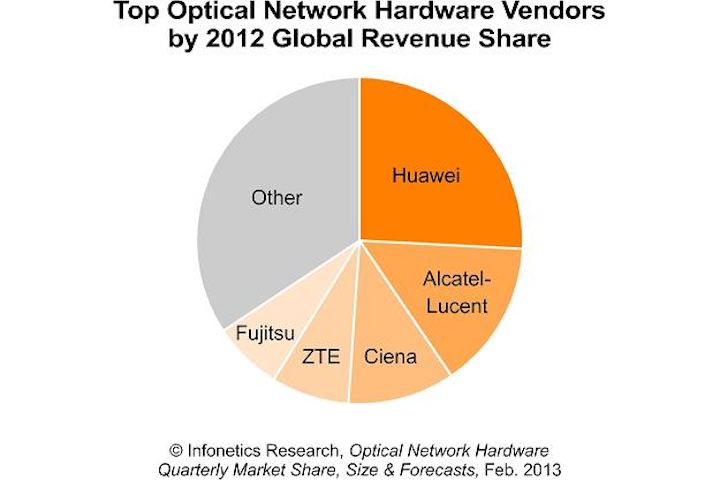 Market research firm Infonetics Research has released vendor market share and preliminary analysis from its 4th quarter 2012 (4Q12) and year-end Optical Network Hardware report. "After ending 2012 on a flat note, things are looking up for the optical market in 2013," says Andrew Schmitt, principal analyst for optical at Infonetics.

Schmitt continues, "Our conversations with equipment providers continue to trend positive, particularly in North America where 100G spending is about to ramp. The general consensus remains that an optical cycle for equipment in the core is emerging, what we call the 'optical reboot.'"

According to the report, the global optical network hardware market rose 2% in 4Q12 from 3Q12, but was down 13% from the year-ago 4th quarter. For the full year 2012, total optical equipment spending was down 10% worldwide, reveals Infonetics. The SONET/SDH optical segment fared much worse, "essentially dealt a death blow in 2012 as global legacy capex fell 30%," reports the firm.

"Meanwhile, there are positive rumbles in the EMEA region, where 2012 ended with a spending flourish and carriers are cutting dividends to plow capital into general capex," Schmitt adds. "And we are looking forward to our visits with carriers in Beijing this spring to get a good read on the year, but the preliminary indication is it will be a huge year for 100G. China is about half of the global 40G WDM market, and 2013 will be the peak year for 40G worldwide."

Also according to the research: After posting its lowest-ever optical revenue results a quarter ago, Alcatel-Lucent (ALU) bounced back in 4Q12, up 29% on the tide of the EMEA capex surge; still, ALU's WDM revenue is down from a year ago. Ciena's optical revenue was down sequentially and year-over-year, but grew shipments of its 40G and 100G equipment and is ramping production of a new single-carrier 100G solution. Infinera had another strong quarter, thanks to a surge in sales of its new DTN-X OTN switching platform.

Related: Alcatel -Lucent integrates OTDR into PON smart transceiver

Infonetics' quarterly optical hardware report provides worldwide and regional market size, market share, analysis, forecasts, and trends for metro and long haul SONET/SDH and WDM equipment, Ethernet optical ports, SONET/SDH/POS ports, and WDM ports. Companies tracked include Adtran, ADVA, Alcatel-Lucent, Ciena, Cisco, ECI Telecom, Ericsson, Fujitsu, Huawei, Infinera, NEC, Nokia Siemens Networks, Tellabs, Transmode, Tyco Telecom, ZTE, and others. To buy the report, contact Infonetics at www.infonetics.com/contact.asp.