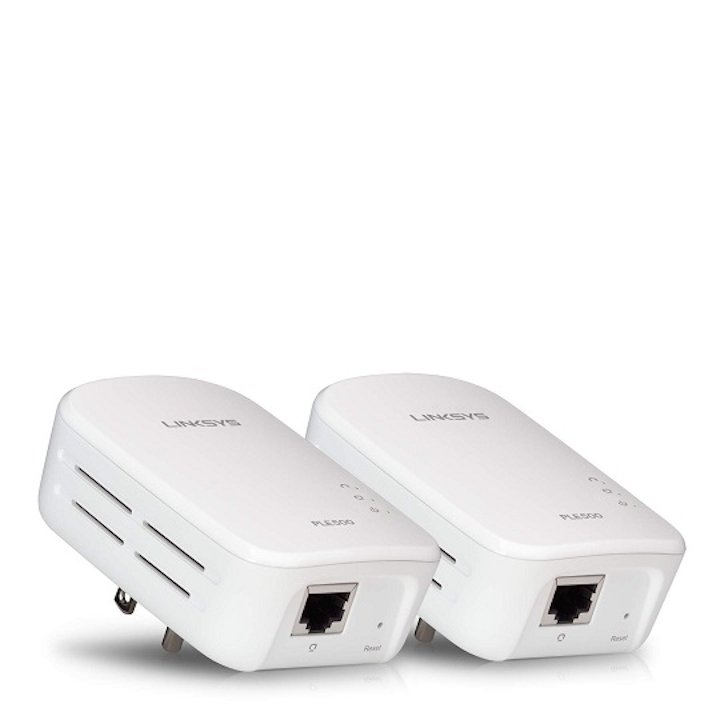 Linksys has released its Powerline HomePlug AV2 Kit (PLEK500). The kit leverages HomePlug AV2 Powerline networking technology to allow consumers to upgrade their home networks to handle high-bandwidth capabilities including HD/3D video streaming, gaming and other data-intensive applications at faster speeds, by leveraging existing wall power outlets. Incorporating a Gigabit Ethernet port and the HomePlug AV2 technology, the kit may help boost data to speeds up to 500 Mbps for computers, tablets, consoles and televisions used throughout the home.

Backward compatible with HomePlug AV and GreenPHY products, the kit includes two 1-port network Gigabit Ethernet adapters, one for connecting to a home router and the other for connecting a device to the network. The kit uses the latest HomePlug AV2 industry-standard technology to turn any home wall outlet into a network connection source without requiring electrical rewiring. The compact, space-saving design of the PLEK500 Powerline HomePlug AV2 Kit, along with its upgraded wall coloring, blends with walls and leaves room for other appliances to be plugged into the same outlet or power strip. Household 120-volt electrical service is unaffected when using the Powerline AV2 Kit.

Related story: HomePlug cites growing momentum

Linksys says the PLEK500 kit provides a simple way to help extend home networks into rooms that may not have wired Ethernet, have wireless dead spots or a limited wireless signal due to building materials, such as concrete or steel. With easy setup software and simple plug-and-play technology, users can network their devices by connecting one of the powerline adapters via a Gigabit Ethernet cable to a router and plugging it into the wall, then plug the second adapter into the device to be connected to the network and the other end into an electrical outlet.

Maximum performance for the Powerline AV network adapter is derived from HomePlug Powerline Alliance Homeplug AV2 specification. Actual performance can vary, including lower powerline network capacity and data throughput rate. Performance depends on many factors, conditions and variables, including volume of network traffic, home wiring construction, operating system used, mix of networking products used, interference from other electrical devices, age of home wiring, wireline range and coverage as determined by wiring route or path between devices and other adverse conditions. Power outlets and electrical wiring must all be part of the same electrical system.

NPD Group, a market research firm, reports that there are more than 500 million devices in US homes connected to the internet and, on average, every home with Internet access has 5.7 devices connected to their home network.

"With numerous Internet-enabled devices such as computers, gaming consoles and set-top boxes entering today's homes, at times these devices require high-speed network connections that cannot be served by wireless network due to a home's construction," comments Mike Chen, senior director, product management, Linksys. "Our latest Powerline kit transforms any room's electrical outlet into a stable Internet access point for connected devices and provides the highest streaming and fast throughput speed. The PLEK500 helps eliminate cumbersome wiring throughout a home and serves as an economical, complimentary solution to wireless or Ethernet where Powerline might be the only option."

The PLEK500 kit is now available on Linksys.com and at major retailers for $129.99.

Search for Active Infrastructure Devices in our Online Buyer's Guide