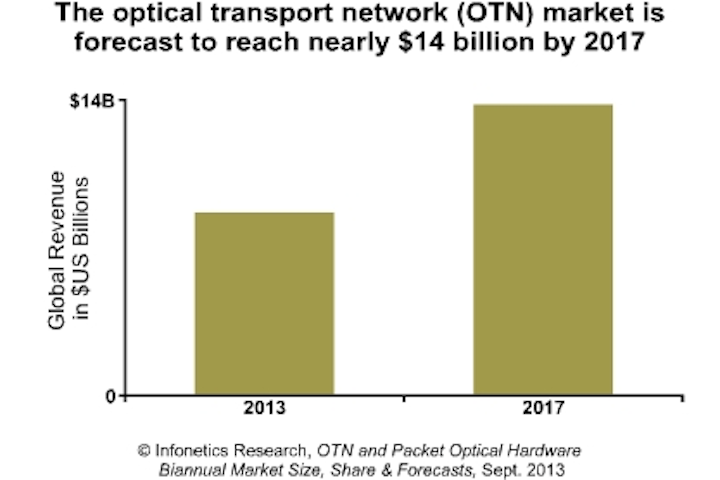 Infonetics Research has released highlights from its latest OTN and Packet Optical Hardware report, which tracks optical transport network (OTN) switching and transport equipment and packet-optical transport systems (P-OTS). According to the report, in the 1st half of 2013 (1H13), worldwide OTN revenue ( for OTN transport and switching equipment) was up 23% from 1H12, to $3.9 billion. Notably, OTN switching spending in North America more than tripled in 1H13, growing 80% from a year ago, finds the study.

"OTN switching is experiencing breakout growth in North America and EMEA [Europe, Middle East, Africa], where service providers are adopting integrated WDM and OTN switching and rolling out 100G coherent in the core," comments Andrew Schmitt, principal analyst for optical at Infonetics Research.

The report reveals that Fujitsu's OTN hardware revenue market share spiked 152% in 1H13, from 1H12. Incumbents Alcatel-Lucent, Ciena, Cisco, Fujitsu, and Tellabs are the P-OTS market leaders, but new players BTI, Cyan, Ericsson, and Transmode are challenging with pure-play P-OTS platforms, says Infonetics. Globally, P-OTS equipment revenue is reported to be up 41% year-over-year in 1H13.
"P-OTS growth in the first half of 2013 was healthy as a result of tier-1 carriers ramping spending versus 2012," adds Infonetics's Schmitt. "We're seeing some of the SONET/SDH spending that went away come back in the form of increased packet-optical activity."

Infonetics' biannual OTN and packet optical report provides worldwide and regional market size, vendor market share, forecasts through 2017 and analysis for OTN transport and switching equipment and P-OTS metro edge and metro regional hardware, including port revenue forecasts by type and speed. Vendors tracked include Adtran, Adva, Alcatel Lucent, Ciena, Cisco, Coriant, Cyan, ECI, Ericsson, Fujitsu, Huawei, Infinera, NEC, NSN, Tellabs, Transmode, ZTE, and others.

Learn more about the report.