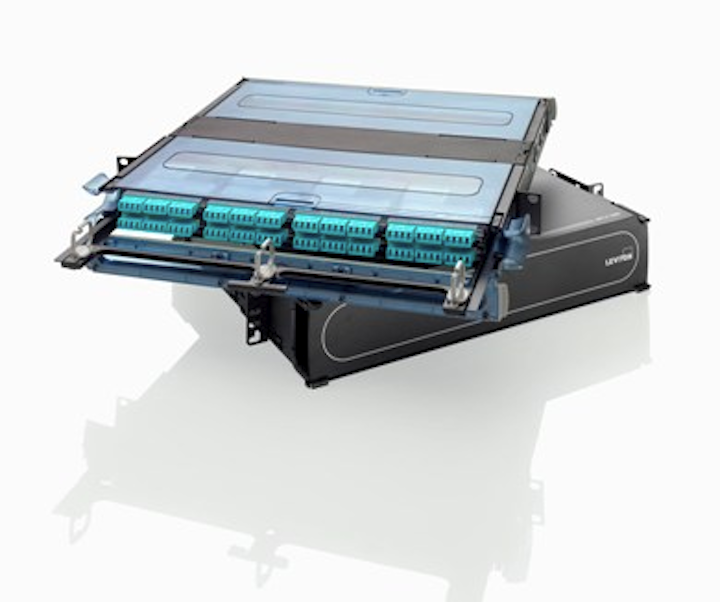 The Opt-X HD Fiber Enclosure System from Leviton is an expansion of the company's Opt-X line of fiber-optic connectivity. Leviton says the new enclosure system "increases fiber density by up to 50 percent within the same rack space for additional interconnect or crossconnect patching." The system includes the high-density enclosures, MTP brand multi-fiber push-on (MPO) cassettes, and adapter plates.
The Evolve MTP cassettes and adapter plates fit into Opt-X Ultra HD and Opt-X 1000i HD 1RU and 2RU enclosures, the company explains. The fiber cassettes are preterminated and pretested, and come with 12- or 24-fiber connectors. The pass-through adapter plates are available with MTP, LC or SC adapter types.
Tony Yuen, senior product manager, fiber, for Leviton Network Solutions commented, "The Opt-X HD Fiber Enclosure System is ideal for data center and enterprise applications where network expansion is a priority, now and in the future. This scalable solution allows you to increase port density in racks to meet expanding network demands."
Both the Opt-X Ultra HD and Opt-X 1000i enclosures can accommodate up to 1,152 fibers in a 1RU space, and 2,304 fibers in a 2RU space when using LC connectors. The combination of MTP brand cassettes and adapter plates in conjunction with Op-X Unity products allows for migration to 10-, 40- and 100-Gbit/sec transmission speeds, the company says.
The enclosures include a removable sliding tray that makes for easy installation, organization and maintenance. An optional retrofit sliding tray, which Leviton says is unique in the industry, allows users to upgrade existing Opt-X Ultra or 1000i enclosures to accept the Opt-X Evolve cassettes and adapter plates. This provides extra density in the same rack space without the need to purchase a new enclosure, the company says.
The Opt-X HD Enclosure System and the entire family of Opt-X fiber solutions are available through Leviton's distribution network.