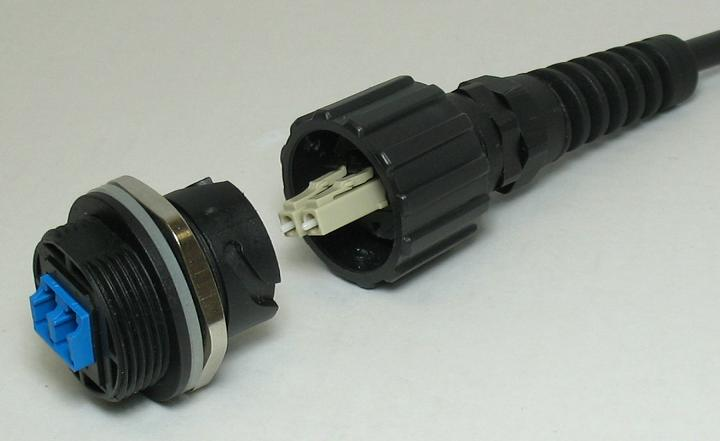 Conec has expanded its rugged IP67-rated connector offering to meet the needs of cellular tower and base station-located fiber distribution cabinets that combine data and power connectivity in one platform.
The company says its ODVA-compliant, IP67-rated LC Series duplex and circular power connector product offering provides significant design flexibility for cellular tower box manufacturers. The connectors intended especially for harsh environment applications, including radio heads using fiber to the antenna (FTTA) connectivity, requiring rugged connector and cable assemblies suitable for outdoor use.

The new IP67-rated LC Series connectors feature a 1/6th turn bayonet coupling for a fast and secure mating/unmating, even with gloved hands. The compact connectors are compatible with industry-standard cables and interconnect products, and use OFNR [optical fiber nonconductive riser] breakout cables rated for outdoor usage and/or direct burial. The series includes connectors for single-mode, multimode 50 micron OM3, multimode 62.5 OM1 and APC requirements.
The water-resistant LC duplex fiber-optic connectors provide increased protection from contamination and moisture in addition to mechanical stability, temperature resistance and vibration immunity. To optimize chemical resistance, UV resistance and tolerance to physical abuse, the manufacturer offers these connectors in two different housing materials: black plastic and nickel-plated, zinc die-cast. The product line includes panel-mounted receptacles, mating plugs, and protective caps. Pre-terminated jumper cables, including cables suitable for outdoor use and direct burial in standard lengths from 1 meter to 100 meters, are also included. Custom lengths are also available.

See also: LC-XD connector doubles fiber density, improves handling

The 7/8 Series circular connector is used as an option on the distribution cabinet for DC output utilizing a rugged metal housing with threaded connect features for easy in-field cable connections. This connector is IP67-rated, features output currents of 10A maximum, and offers ease of installation by minimizing typical hard-wire operations at the installation site. The mating cable-side connector can be field-attach or supplied as an over-molded cable assembly. The IP67-rated connectors ensure a continuously secure connection and are dustproof and weatherproof, with a silicone ring seal that makes a watertight connection to the panel.

"Conec offers the broadest ODVA-compliant fiber-optic connector portfolio in the industry, providing both full-metal and plastic versions of the IP67-rated interconnects," comments Peter Persico, technical support specialist at Conec. "Our extensive IP67-rated solutions provide design flexibility, while meeting the needs of telecommunication OEMs and operators for fiber-to-the-antenna (FTTA) and similar multi-signal applications. In addition, Conec can provide cable and plug kit assembly services to deliver a complete FTTA system interconnect solution with shorter lead times and time-to-market for our customers."

The LC Series duplex connectors are available from Conec at $20.00 apiece in OEM quantities, with a lead time of stock to 4 weeks. The 7/8 type circular power output connector are available from $9.00 in OEM quantities, with lead time of 4 to 6 weeks. For more information, email info@conec.com; or call 919-460-8800.

Related: Fiberon toughens LC connector design