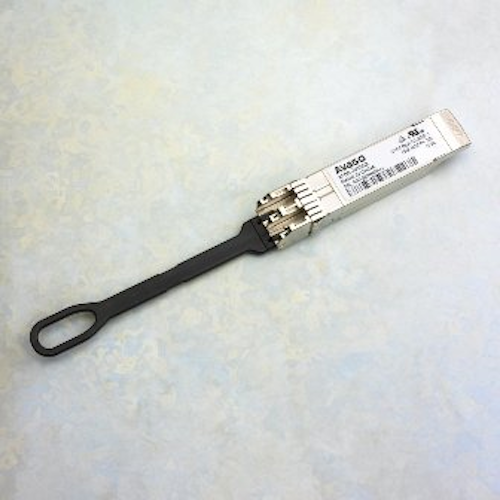 As analyst and author Lisa Huff pointed out in a recently published article, the SFP+ interface has stood tall (figuratively, of course) through six generations of network-data-rate upgrades.
An important point Huff made in that article is that the SFP+ appears to have emerged victorious in the optical form-factor "wars," which will allow transceiver manufacturers and optical-component vendors to focus on cooperation instead of positioning. As that happens, improvements to and modifications of the SFP+ continue.
Avago Technologies says its new mini-SFP+ optical transceivers will increase port density by 30 percent compared to other SFP+ models. The AFBR-54D7APZ, for 8-Gbit/sec Fibre Channel, and the AFBR-703SNZ, for 10-Gbit/sec Ethernet, are the new pluggable modules from Avago.
The mSFP transceivers, as Avago calls them, incorporate the company's 850-nm VCSEL and PIN detector technology, which ensures compliance with appropriate specifications. Both devices uses the SFP+ electrical connector and the I2C interface and comply with the Small Form Pluggable (SFP) Multi Source Agreement (MSA) specs for duplex transceivers, according to Avago.
The company says, "The mSFP modules are designed for low power consumption with typical dissipation of 0.6W." Victor Krutul, director of marketing for the company's fiber-optic products, adds, "These new mSFP modules enable our customers to develop more-efficient storage and Ethernet equipment with higher port density, and we are getting positive feedback from our lead customers." The company cites a high-density DCX backbone modular switch from Brocade as an example of the mSFP's application, noting that switch's 64-port switching blade that could house only 48 standard SFP+ ports.