16- and 24-fiber MTP connectors
US Conec's MTP Elite ferrules and connectors offer low-loss performance for 100G+ parallel-optic links.
Aug 17th, 2011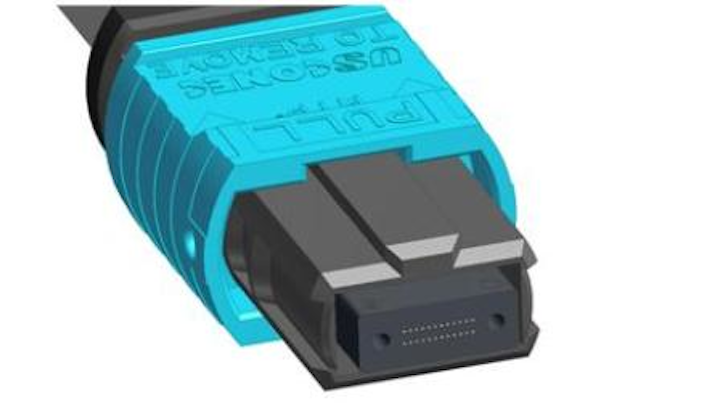 To meet the stringent link-attenuation budgets necessary to support parallel-optic 100-Gbit/sec transmission, US Conec has introduced a low-loss 24-fiber multimode MT Elite ferrule along with MTP connector hardware optimized to ensure fiber-to-fiber physical contact between the mated pairs. According to US Conec, the new higher-spring-force connector hardware is designed in accordance with the emerging multi-row IEC MPO intermateability standard, 61754-7-2.
The company says the connector is ideal for use in array trunking, breakout modules and for direct connection to recently established IEEE and Infiniband 100G+ parallel-optic transceiver protocols. When announcing the hardware's availability, US Conec said, "Tested in compliance with industry standard encircled flux launch conditions, the solution offers a worst-case mated pair insertion loss of 0.35 dB on OM3 fiber at 850 nm with a typical distribution mode of 0.10 dB." It also noted that 16 fiber multimode MT Elite ferrules are also available for aggregation of Fibre Channel links and other protocols based on 8 or 16 fiber lanes.