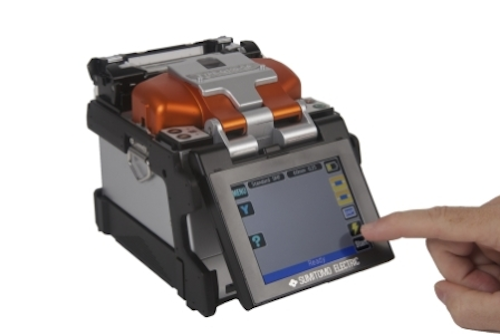 Sumitomo Electric Lightwave's recently introduced Quantum Type-Q101-CA Dual-Heater Core Alignment Fusion Splicer - the first in Sumitomo's Quantum splicer product line - incorporates advancements that enable easier and faster functionality, expand memory storage, improve ruggedness and optimize splicing efficiencies, the company says. Sumitomo adds that the advancements incorporated into the splicer are based on results from qualitative user research and needs analyses.
The company emphasizes the splicer's fully functional touch-screen interface, which makes navigating the splicer's functions more intuitive, faster and easier than traditional keypad interfaces, Sumitomo notes. Quantum incorporates both the touch-screen and keypad interfaces so technicians can use the interface of their choice. The Quantum also has an SD port for "virtually unlimited data storage," Sumitomo says, plus the capability to download and upload work-related splicing project data, training videos, audio and software.
With dimensions, in inches, of 4.72Wx6.06Dx4.96H and weighing 4.4 pounds, "The Quantum splicer is the industry's smallest and lightest core-alignment fusion splicer that is easier to carry and work with in the many small, confined spaces characterizing the data center, enterprise network, FTTx and outside-plant work environments," Sumitomo says. "Despite its small footprint and weight, the Quantum splicer boasts the industry's largest 640x320 fiber view and longest electrode life, while complying with the most stringent shock, waterproof and dust-resistance requirements."
Joshua Seawell, manager of Sumitomo Electric Lightwave's lightwave network products division, said, "By listening to the customer, we have launched the most advanced, reliable and user-friendly splicer in the industry. We thank our customers for their valuable input, which is the foundation of our continued leadership in providing the best that fusion splicing technology has to offer."
The Quantum Splicer also features a user-selectable fiber-placement system, lithium-ion battery, metal hood, and Sumitomo Electric's standard dual-heater system. The heater system has been upgraded with a 20-second reduction in combined splice and heater cycle time. The splicer is also compatible with the Lynx2 CustomFit Splice-On Connectors. The splicer will be available in September.