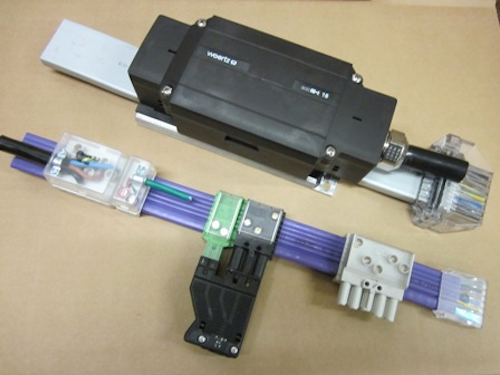 Electrotech describes its ESG Flexible Power and Data Bus System as a solution for running power and data to both industrial and commercial equipment. The company says the system "will save time and material by eliminating the need for junction boxes, splices and home-run wiring."
The family of multi-conductor flat cables is available with 5 to 7 conductors, with individual conductors ranging from 16 AWG to 6 AWG. The cables are made with PVC, polyethylene or halogen-free sheaths, Electrotech says, adding that power connection boxes are rated from 1 Amp up to 76 Amps and use insulation displacement connection (IDC) technology.
The ESG Flexible Power Bus System is available with a series of power-connection boxes that provide IP-65 protection, which makes them appropriate for washdown or outdoor applications, Electrotech says.