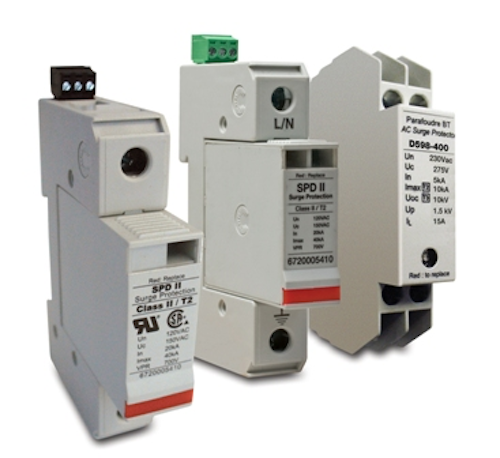 The SPD series of DIN-rail-mountable surge protectors from Weidmuller provides local and remote self-monitoring. The product line includes seven models plus accessories for low-voltage distribution and protection of industrial control systems, equipment, assemblies and devices.
The SPD design is based on high-energy varistors (MOVs) that are equipped with thermal disconnects and integral failure indicators. A remote signaling contact for disconnection indication is standard on each unit. Varistors are housed in pluggable modules with connections that are mechanically keyed to the base, which Weidmuller points out prevents incorrect arrestor module replacement.
The SPD II range of products (pictured at the bottom of this page) is UL 1449 Edition 3 approved to protect AC single- and multi-phase distribution circuits with nominal voltages up to 480V, and safely discharge impulse surges up to 40kA to ground. The SPD II uses 18mm of rail width per phase, Weidmuller points out, which allows easy arrestor replacement. The SPD III model is for single-phase devices, providing common-mode protection with maximum discharge capacity of 20kA.