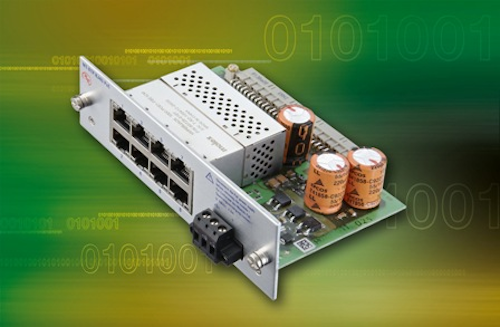 The Hirschmann PoE/PoE Plus Modules for the MACH100 Workgroup Series Switches each contain eight Fast Ethernet ports. Four of those eight ports are enabled with PoE (15.4 W) or PoE Plus (30 W) functionality. With each MACH100 Switch accommodating two such modules, the total available number of ports per switch is 16, with 8 of those ports enabled with PoE or PoE Plus.
Bill Wotruba, direct of network and connectivity products for Belden (Hirschmann is a Belden brand), commented, "With the introduction of the PoE/PoE Plus Modules, Belden once again demonstrates its leadership position in industrial network technology. Until now there has never been a fan-free PoE unit that occupies only one unit of space while offering users a high concentration of PoE or PoE Plus ports."
The MACH100 Fast Ethernet switches support Profinet and EtherNet/IP, and can be used to network workgroups via copper or fiber-optic cabling while connecting them to the network backbone via two Gigabit combo ports. The switches operate in temperature ranges from 32 to 122 deg. Fahrenheit (0 to 50 deg. Celsius).
The PoE/PoE Plus modules include LEDs at each port that indicate PoE or PoE Plus operation. 48V DC (PoE) or 52V DC (PoE Plus) power is secured through the use of an external power supply that is connected via twisted pairs to the unit's three-pin terminal block. Belden indicates these plug-and-play, hot-swappable modules are shielded to protect against electrostatic discharge, magnetic fields and interference. Network-management software and a Web interface are available to facilitate configuration and diagnostics.