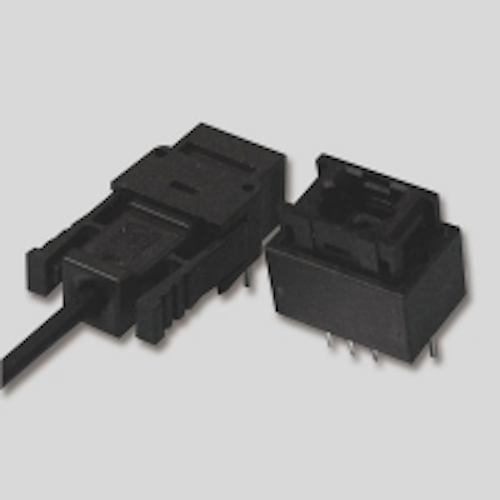 Toshiba has announced new additions to its Toslink series of fiber-optic transmission modules that support a data rate of direct current (DC) to 10 Mb/s for distances up to 100 m using plastic optical fiber (POF). Use of a proprietary, high-power, high-reliability red LED allows the new products to be driven at a lower current than existing, similar modules for a very low rate of power consumption, says the company.

More news: POF symposium hits OFC 2014

With the new Toslink fiber-optic modules, transmission distances of 40 m to 100 m can be achieved with a 6 mA drive current, and distances of 0.2 m to 50 m with a 1.5 mA drive current. This is 90% lower than for competitive products, claims Toshiba. Also, the new modules' fiber-optic receiving module uses a single-chip light sensor IC, which contains a photodiode, an amplifier and a waveform-shaping circuit (automatic threshold control circuit i.e. ATC) and operates at 20mA (max).

Four new modules will be available in horizontal-type and vertical type packages including: the horizontal-type optical transmitting and receiving modules, TOTX1350(F) and TORX1350(F); and vertical-type optical transmitting and receiving modules, TOTX1350(V,F) and TORX1350(V,F). Target applications include those requiring high-speed, long distance, low power consumption optical communications, such as industrial devices, control devices, wind and photovoltaic power generation systems, amusement machines, battery controllers and more.

Mass production of the new products is scheduled for the beginning of April, says Toshiba.
Related product: Plastic optical fiber cables for industrial, energy and medical applications