Illinois library taps Tellabs for passive optical LAN equipment
92,000 square-foot main library facility to be supplied.

Aug 7th, 2014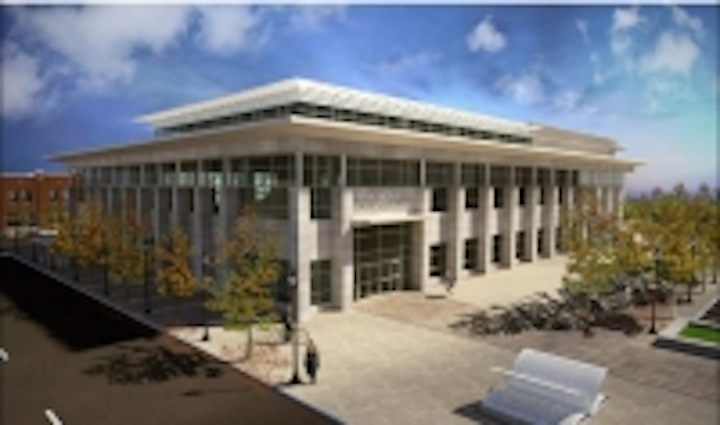 Image Source:Aurorapubliclibrary.org
Tellabs, a specialist in passive optical network (PON) applications (especially since its acquisition by Marlin Equity Partners), says it will supply passive optical LAN equipment to the Aurora Public Library for its new 92,000 square-foot main facility in Aurora, IL.

The new Richard and Gina Santori Library will open in May 2015 with a passive optical LAN that will interface to the library's existing core network, ensuring all native security filtering and firewalls remain in place. The PON design will enable elimination of some legacy access switches in the library's communications closet, as well as help the Santori Library meet sustainability goals, including Leadership in Energy & Environmental Design (LEED) certification. It will support 1-Gbps connection speeds to support the library's voice, data, video and wireless services needs. It also will enable the library to serve other libraries within an 18-mile radius.

The deployment will leverage the 4-RU Tellabs 1134 Optical Line Terminal (OLT) and Tellabs 140 Optical Network Terminals (ONTs) with Power over Ethernet (PoE) and virtual LAN (VLAN) capabilities.

"Tellabs' Optical LAN technology is instrumental in the continued innovation of the Aurora Public Library system," said Eva Luckinbill, director of the Aurora Public Library. "But, Optical LAN is not just a more innovative solution, it is an overall smarter choice. It gives us the flexibility to scale and adapt to whatever the educational and informational needs of the community are in the years ahead," said Linda Whitmill, automated services coordinator of the Aurora Public Library.

"Our customers are life-long partners that understand the importance of forward-looking solutions. This made Optical LAN a perfect fit for the Aurora Public Library's new Santori Library," added Charlie Stone, vice president of North American sales at Tellabs.

Source: Lightwave