LGX fiber-optic adapter plates enable flexible high-density installations
Opticonx's P3Link Xtreme LGX fiber-optic adapter plates retrofit any of the company's P3Link Xtreme connector and splice modules to fit in any LGX-footprint panel.
Nov 11th, 2014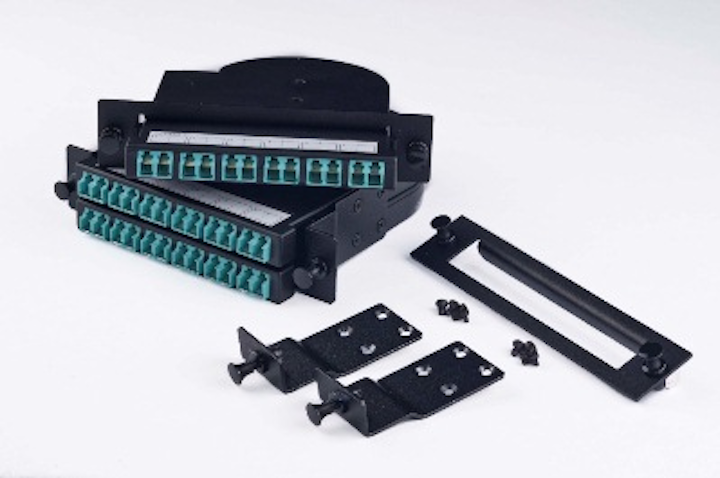 A new set of fiber-optic adapter plates from Opticonx will help users with multiple parts of their fiber-optic cabling installations, the company said when announcing the products. The P3Link Xtreme Adapter Plates retrofit any Opticonx P3Link Xtreme connector module, and splice module, to fit any LGX footprint wall- or rack-mount patch panel.
"P3Link Xtreme cassette modules are normally installed in their own high-density, reduced-footprint panels," Opticonx said. "The enhanced LGX adapter will now let users integrate the newest Opticonx non-LGX products with existing, older, or preferred LGX footprint patch panels.
"Before the release of this product, you needed to use a P3Link Xtreme patch panel to take advantage of our P3Link Xtreme line of high-density cassette modules," the company added. "Opticonx and any other patch-panel manufacturer that follows the LGX format is affected—and the fiber-optic adapter plates are available in half- and full-density, for 12- or 24-fiber capacity."
Brian Keane, vice president of marketing with Opticonx, said, "In most cases, users prefer not to install new patch panels when existing ones are not filled to capacity. The LGX adapter plates now allow them to achieve the most-efficient use of existing infrastructure. While our P3Link Xtreme platform is relatively new, LGX patch panels have been around forever and are still a popular format for patch panel manufacturers."
More information on these fiber-optic adapter plates and on the P3Link Xtreme product line is available here at Opticonx's website.