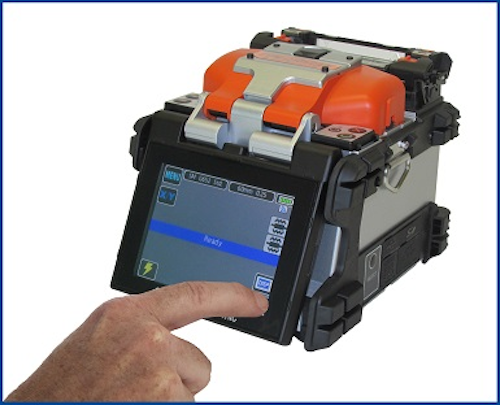 Optical fiber and connectivity equipment provider Sumitomo Electric Lightwave has introduced its next generation single-fiber core alignment fusion splicer, the Quantum Type-Q101-CA -PLUS. As one of the first models on the industry to include Wi-Fi connectivity, the fusion splicer is designed to enhance speed and user friendliness, while maximizing advanced splicing performance for cost-efficiencies in FTTx, data center, and other communication network applications, says the company.

According to Sumitomo, to meet the needs for increased productivity and faster connectivity for network installations, restorations, and moves, adds, and changes, the fully navigational touch-screen of the Quantum CA-PLUS maintains all of the qualities and features of its predecessor, the Quantum Type-Q101-CA, while reaching new standard levels in speed and cost efficiency by reducing heater shrink time by half, from 28 to 14 seconds. This new speed, coupled with the product's patent-protected dual independent ovens, makes the QuantumCA-PLUS among the fastest fusion splicers in the industry, contends the company. The dual independent heat shrink system eliminates the heat waiting time for streamlined, consecutive splices, and may increase splicing efficiency by over 80%, claims Sumitomo.

In response to technicians' needs for synchronization and user friendliness, Sumitomo says it also designed the new unit with Wi-Fi capabilities for important splice data transfer and other interactive work related features via mobile apps. Other key features of the new Quantum CA PLUS fusion splicers include the following: Internet interface for 24-7 remote diagnostic and maintenance with Sumitomo service technicians; Video playback; SD port for external data storage for software, training, and video uploads/downloads.

With a small, light footprint for a core-alignment splicer, the company says its Quantum CA-PLUS also incorporates a rugged design that complies with the most stringent shock, waterproof, and dust resistance requirements. The splicer is also compatible with Sumitomo Electric Lightwave's Lynx2 CustomFit Splice-On connectors for real-time and on-site field installable connectivity. The Quantum CA-PLUS is available immediately for delivery.