Configurator for optical fiber splice enclosures
trans data elektronik, tde, now offers a three-step configuration tool for optical fiber splice products to go along with its fiber patch and trunk cable configurator.
Nov 12th, 2014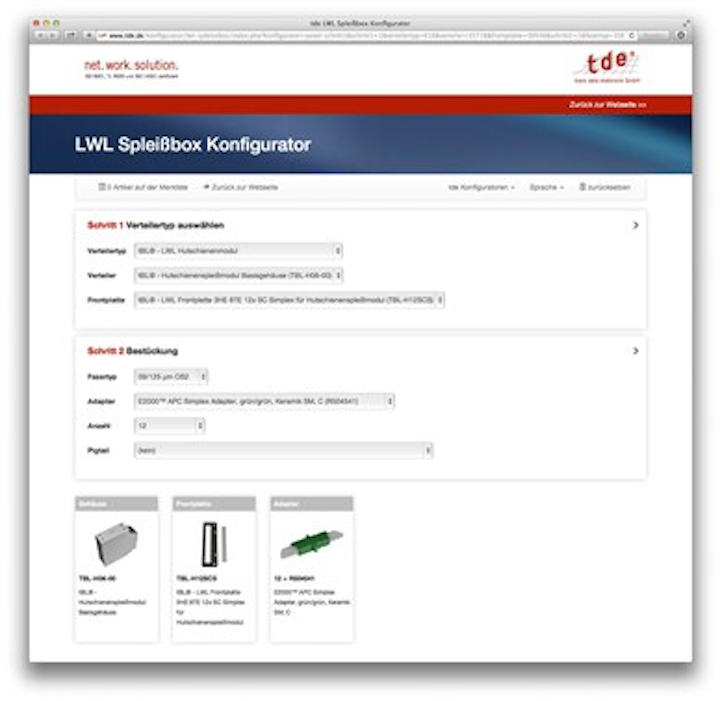 trans data elektronik (tde) recently launched an optical fiber distribution configurator that allows users to configure optical fiber splice and breakout boxes with different mountings. The configuration takes users through a three-step process through which they can specify their splice enclosures as well as other equipment. When announcing the configurator, tde said the tool "offers customers even more professional support for the configuration of optical fiber splice enclosures … Splice and breakout distributors with different mountings can be configured plausibly and adequately in just three steps. All common optical-fiber connector faces are possible, from ST to E2000."
The company outlined the following process through which users configure their optical fiber splice equipment.
Choose the distributor type from a drop-down menu—19-inch rack-mount enclosures, wall-mount distributors, sub-rack modules or DIN rail modules are available.
Specify mounting type—according to the criteria fiber type, optical-fiber coupling type, and pigtails.
Select options—use the configurator's options section to choose whether the application should be ready to splice, or equipped with splice protectors.
tde added it "has added a matching picture of each component to every stage of the selection process" to ensure user familiarity and understanding. Additionally, "The intelligent inspection system guarantees that users can only create plausible and correct configurations," tde said. "If users have finished their configuration, they can generate a data sheet with a detailed listing of all technical parameters of the components used. At the same time, the requested configuration can be added to a personal list at the touch of a button, and can be subsequently sent as a request to tde's internal sales services."
The company's chief executive officer Andre Engel commented, "Our aim is to offer our customers the highest quality standards in all areas. We have already achieved this with our successful and so-far-unique optical fiber patch and trunk cable configurator. Based on this success we are delighted to also present a similar concept for optical splice enclosures. In this way, we offer our customers the highest reliability, efficient handling and the best possible support from the planning stage through to the actual implementation."