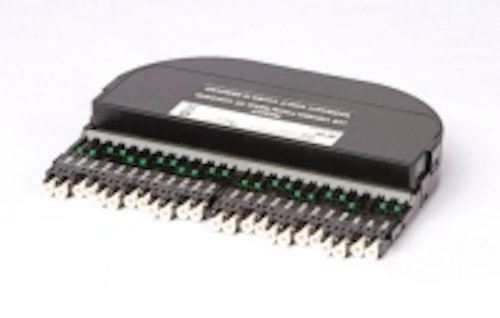 At the 2014 FTTH Conference & Expo (June 23-25) in Fort Lauderdale, FL, TE Connectivity (NYSE: TEL) has introduced new passive fiber-optic products optimized for use in the central office environment. TE has expanded its NG4access value-added module (VAM) portfolio to include splitter modules with 1x32 split ratios, and dense wavelength division multiplexing (DWDM) modules to meet 40-channel applications. For the outside plant, TE has unveiled a coarse wavelength division multiplexing (CWDM) module for use in fiber distribution hubs in 8-, 10- and 16-channel configurations.

TE's NG4access VAM product family is comprised of monitor, splitter, CWDM and DWDM optical components. According to the company, with one click, the VAMs can effortlessly install into the NG4access universal chassis (which features one of the highest connection densities in the industry) for adding fiber capacity, troubleshooting or distributing optical signals to multiple subscribers. The newly designed splitter VAMs are available in split ratios of 1x2 up to 1x32 configurations. In addition, higher channel count DWDM modules have been added to the VAM portfolio and include 16-, 20- and 40-channel configurations.

The newly available plug-and-play CWDM modules are designed to fit in all TE fiber distribution hub 3000 cabinet sizes. The module can multiplex two or more signals with different wavelengths in one common fiber, or separate wavelengths at the remote location. The ruggedized cable protects from repeat handling and extreme temperatures from minus 55 degrees C to 85 degrees C. Factory-terminated plug-and-play SC/APC connectors ensure fast subscriber turn-ups, saving operators time and cost. Available in 8-, 10- and 16-channel configurations, the CWDM module offers a simple way of adding more services and bandwidth to outside plant applications.

"Fiber-to-the-home (FTTH) operators face the challenges of maintaining their competitive position in the marketplace, while simultaneously being tasked to deliver more services over their existing fiber infrastructure," says David Brown, vice president and CTO of TE Broadband Networks. "TE's passive fiber-optic solutions help mitigate these challenges by offering easy-to-install optical components that can be fully integrated into all areas of the FTTH network. Plug-and-play fiber-optic solutions enable faster service turn-ups and offer a cost-effective approach for adding fiber capacity at critical network access points."

For more information on TE's passive fiber optic solutions, visit booth #701 at the 2014 FTTH Conference & Expo.