L-com unveils MPO fiber products
L-com is now offering three new MPO fiber products.
Jun 12th, 2014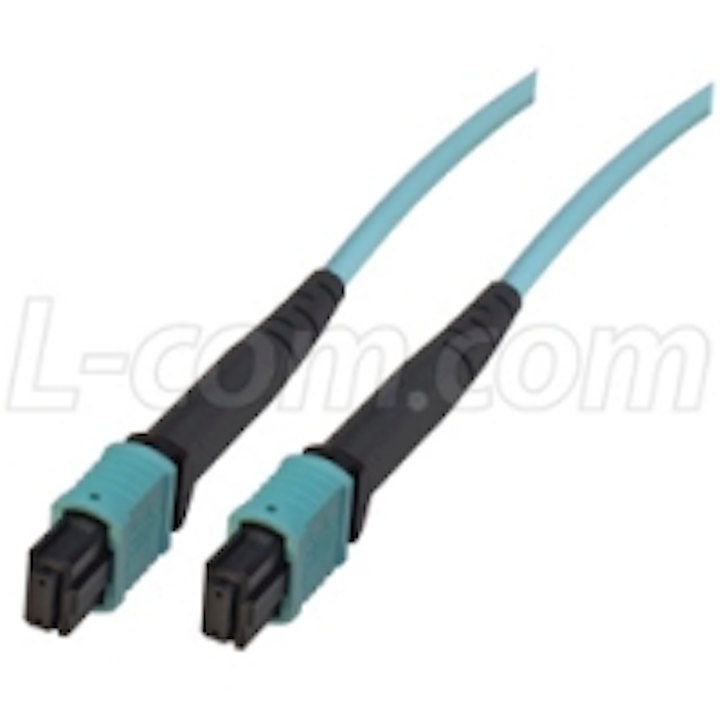 L-com announced that it is now offering three new MPO [multi-fiber push-on] fiber products: a cable rated for 40 Gigabit Ethernet; a coupler for cross wiring; and a dry cloth cleaner. The company notes that, as data center bandwidth requirements continue to grow, MPO technology has become the default cabling solution for such, and that its newly launched products will offer customers more dependability in their applications.

"MPO cabling brings new challenges for IT professionals," comments David Gallagher, product manager at L-com. "But L-com offers two styles of MPO couplers to help make configuration easier, and our MPO products offer high speed data performance without taking up valuable rack space."

L-com contends that its multi-fiber round cables deliver advantages that far outweigh their size by offering up to 12 times the density of an ordinary SC connector of the same size. This product uses four channels of the MPO connector to receive, and four to transmit; each channel is 10-Gigabit Ethernet rated using OM3 cable. With a push-pull design for easy mating and removal, significant installation time can be saved by using the cables, claims the company.

L-com's new MPO fiber-optic coupler provides a fast and easy way to connect one male MPO cable (with alignment pins) to one female MPO cable (without alignment pins). By joining two cables and cross wiring them, this coupler allows users to quickly and easily change a cable from straight to crossed or vice versa without having to buy a new cable. Steel mounting clips allow for easy snap-in installation.

Cleaning fiber-optic connectors is also critical to delivering a reliable network installation. Also now offered by L-com, Senko's dry cloth cleaner is specially designed to clean MPO fiber connectors. The dust cap of the cleaner acts as an adapter for cleaning unmated connectors; it is estimated that this helpful tool can clean over 600 connectors and/or ports before requiring replacement. The cleaner is easy to use and highly effective at removing oil and dust contaminants that can inhibit optical performance.

See also: Light source excites all fibers in MPO-based singlemode cabling