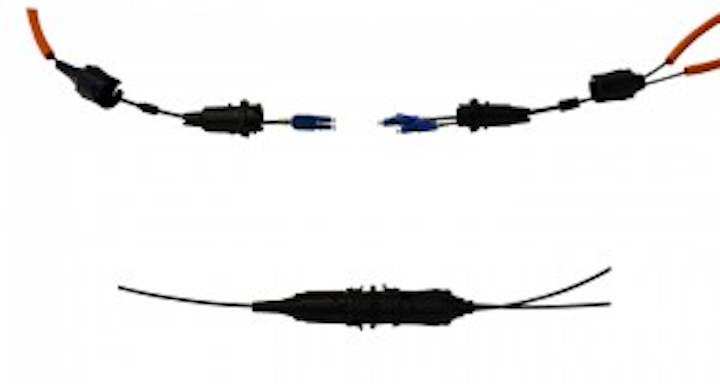 Clearfield Inc. recently added the FieldShield Hardened Pushable Connector Y-Adapter to its FieldShield product line. The Y-adapter is optimized for use with the company's FieldShield Microduct and Pushable Fiber, it said. "The FieldShield Y-Adapter reduces initial FTTH [fiber-to-the-home] fiber build-out costs by allowing the provider to distribute a two-fiber plug-and-play solution in a single microduct pathway to a dedicated service access point along the customer lot line" Clearfield explained.
"The FieldShield Y-Adapter is deployed in two stages: the Adapter Kit and Turn-up Kit," the company continued. "The FieldShield Bulkhead Kit provides a LC adapter in a small re-enterable bulkhead, which can be direct-buried or deployed fully ready for future deployment in an OSP [outside-plant] access enclosure of choice. When customer service requires turn-up, the FieldShield Service Turn-up Kit completes the protected sealed housing, accepting up to two FieldShield LC drop cables which can be deployed independently."
Johnny Hill, chief operation officer for Clearfield, added, "Building the access-ready-only portion of the network in both greenfield and brownfield environments greatly minimizes the disruption impact on a neighborhood while maximizing the service provider's people and resources during the construction process. Because the solution is plug-and-play, the post-construction phase of subscriber turn-up is a de-skilled one that reduces the cost of deployment and improves service turn-up time."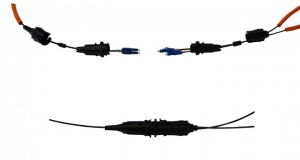 The company also explained how the Y-adapter works, as follows: An environmentally sealed housing—which includes an outer and inner collar, inner housing, grommet and plug—allows for drops to be placed above- or below-ground in harsh environments. Easily accessed from the below-grade enclosure of choice, the Y-adapter provides the components to split a FieldShield Dual LC drop cable into two simplex LC cables. If a network has limited fiber available, the Y-adpater allows the FieldShield Multiport SmarTerminal, configured with a 1x16 splitter, to be fed with a single fiber.
FieldShield Microduct completes the pathway to the customer premises, Clearfield added.