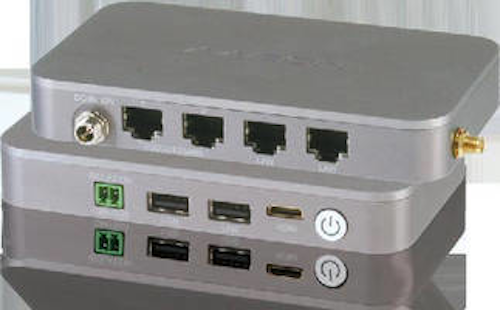 Industrial computing specialist AAEON has released its AEC-6402 ultra-slim fanless box PC. Merely 20 mm in height, the literally palm-sized system is especially designed for space-critical in-vehicle applications.
Featuring extensive I/O capabilities, the AEC-6402 system's core is powered by the energy-efficient Intel Atom N2600 1.60 GHz processor and the Intel NM10 Chipset. System integrators specializing in factory/machine automation, transportation, home automation, in-vehicle, law enforcement and environmental surveillance will appreciate the AEC-6402 fanless box PC's elegant enclosure design.
The system allows up to 2GB of DDR3 1066 SDRAM and bears a 12V DC power input. The PC's I/O capabilities include two USB 2.0 ports, two Gigabit Ethernet ports, two RS-232/422/485 serial ports with RJ-45 connectors and one CAN bus connector, ideal for powering a variety of home, factory and security automation and in-vehicle applications. The unit also includes an option for wireless network connectivity.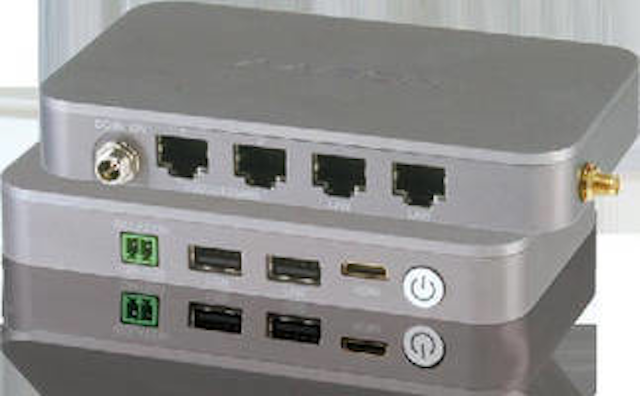 The brushed aluminum enclosure is light-weight and measures only 125 mm x 77 mm x 20 mm, while still being able to provide solid component protection against harsh environments with vibrations and temperatures ranging from -20 to 50°C (-4 to 122°F), with passive heat dissipation and airflow.
The AAEON AEC-6402 is also equipped with solid data gathering features via its Half-Size mSATA connection for high-speed, solid-state data storage support, enabling analysis of data or high-definition multimedia information to be output through its Mini HDMI link. Installing this small controller is also made easier with support for DIN rails and standard VESA mount options. The AEC-6402 also fits in almost any panel design available today and offers three mounting options: wall mount, VESA mount, and DIN rail.

"Like its AEC-6401 predecessor, the AEC-6402, and its compact, ultra-slim design makes installation possible in smaller cabinets and other space-constrained locations, while still offering ample processing power for applications in environmental monitoring, factory automation, and in-vehicle computing applications, where space constraints are a common issue," comments Wayne Chen, CTO of AAEON. "Like AAEON's other industrial-grade systems, the AEC-6402 fanless box PC is a cost-efficient solution with longevity support."

Learn more about the AAEON AEC-6402 fanless box PC for in-vehicle applications.

Search for Specialized Equipment in our Online Buyer's Guide