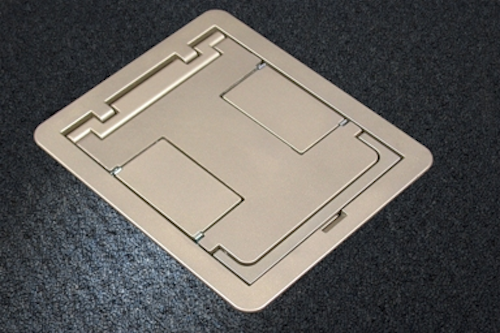 New covers for Legrand Wiremold's FloorPort and Omnibox products meet Buy America Act, NAFTA and American Recovery and Reinvestment Act (ARRA) requirements, the company announced. "These covers not only make Wiremold infloor wire and cable management systems eligible for more projects, they also enhance function and aesthetics," Legrand Wiremold said when making the announcement.
The newly redesigned FloorPort service fittings are available for Resource RFB Series floor boxes, Walkercell cellular raceway and Walkerdeck systems. "These systems provide flexible access to power, communications and A/V with recessed and furniture feed configurations," Legrand Wiremold said. "The enhanced design also increases the ease-of-use through new hinge and handle configurations, while continuing to exceed UL scrub-water requirements. Color options include powder-coated nickel, bronze, brass, black and gray, as well as brushed aluminum."
Additionally, rectangular aluminum covers for the company's OmniBox Series floor boxes are also newly available in a version compliant with Buy America, NAFTA and ARRA requirements. These boxes are available in stamped-steel and cast-iron fabrications. They offer 1-, 2- and 3-gang service and are adjustable both before and after a concrete pour. The covers are available in five powder-coat finishes: black, gray, bronze, brass and nickel. All these covers feature TopGuard protection, a design element that keeps water, dirt and debris out of the compartments that house power and communication media.