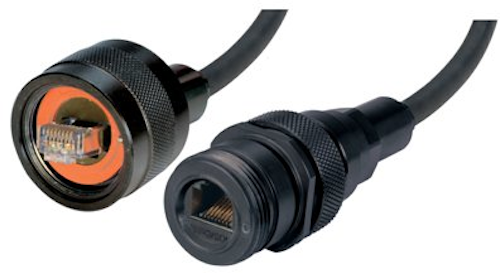 The TRD8RG series of IP68-rated RJ45 cable assemblies from L-Com was developed to address the need for Ethernet connectivity in harsh, uncontrolled environments including industrial and military, L-Com says. "Today there are more and more situations where Ethernet networks are being deployed in harsh environments where non-IP-rated products won't hold up," the company said when announcing the product line. "The need for ruggedized IP68-rated cable assemblies continues to grow for military and industrial applications."
The TRD8RG line includes eight assemblies, featuring either a zinc-nickel or anodized-aluminum finish, IP68 rating, fully shielded construction, flame-retardant PTE cable jacket and CMX outdoor-rated oil- and UV-resistant cable.
L-Com notes that custom versions are available upon request. Customers can use this online custom-cable configurator to design their own assemblies.