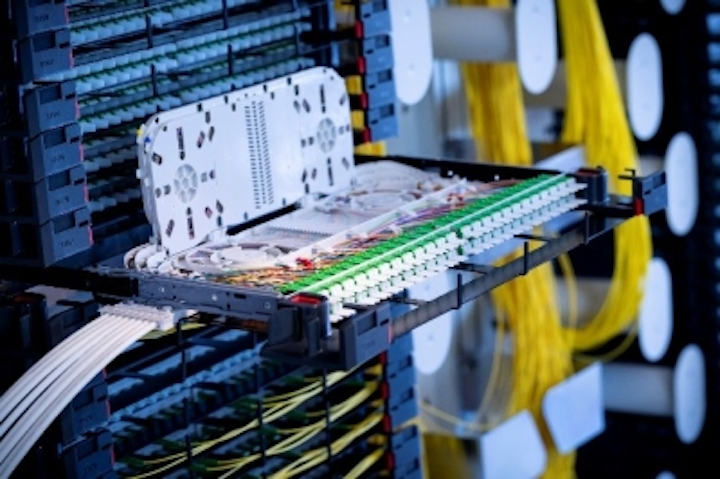 On April 2, R&M launched PRIME (Professional Interconnection Management Equipment) ODF, which the company describes as "a highly dense cabling platform for optical distribution frames [ODFs]." PRIME ODF provides fiber-optic network operators greater planning freedom, R&M stated, enabling these operators to use their fiber distribution hubs in more varied ways than they have been able to in the past. "With PRIME ODF, network operators now can design fiber-to-the-home [FTTH] networks precisely from the outset to suit local requirements and still have the possibility of extending or adapting them later any time," the company added. "At maximum capacity, PRIME ODF modules can connect 5376 optical fibers in an optical distribution frame, which is a new standard for the FTTH market."
Dieter Studer, marketing manager for R&M USA Inc., commented, "PRIME ODF provides the highest fiber density with modularity, flexibility, scalable costs, easy installation and migration into new and existing network infrastructures. These features improve network planning and the safety of fiber and cable management during network operation and maintenance."
Among the most important locations for PRIME ODF racks are above-ground street cabinets and basements, main distribution frames, central offices and point-of-presence (POP) sites, R&M said. "Here they form the nodes of local broadband networks such as city rings and feeder networks," the company added. "PRIME ODF is at home wherever space is limited, and a high number of optical fibers need to be wired. The platform is also suitable for fiber-optic distribution in data centers and for backhaul networks from mobile communication providers."
This video highlights PRIME ODF's features and capabilities.
The principle of modularity manifests with PRIME ODF, R&M added, explaining, "The distributors can be assembled, adapted and extended like separate blocks. This approach makes it possible for network operators to plan with manageable investment costs and order only the specific number of components they need [pay as you grow]. Network operators also can react quickly to local FTTH demand and technical progress, and scale broadband networks to suit requirements."
As many as 14 PRIME ODF modules can fit into a 19-inch or ESTI rack. The platform's adaptive, tool-free design ensures no tools are required for assembly in R&M ETSI racks, the company pointed out. These design and assembly characteristics increase installation efficiency and the flexibility of network operations, R&M added. The PRIME ODF modules can be assembled from the front or back of 19-inch racks.
"A sub-rack can accommodate four PRIME ODF fiber units," R&M explained. "They can be combined and equipped in a variety of ways and retrofitted without tools. The PRIME ODF range contains fiber units for fiber-optic termination, for splice and breakout cabling and for patch cord and overlength storage. When using the ultra-high-density LC adapters from R&M, the capacity of a PRIME ODF module totals 5376 fiber-optic connections. The high packing density decreases the average costs per port."
Additionally, drawer technology protects the fibers during assembly, maintenance and cleaning. The fibers remain in the guide. A channel system protects the fibers on the way to the splice area. The connectors can be detected and operated when the drawer is pushed in and be pulled into a service position for cleaning and inspection.
R&M's release of PRIME ODF comes on the heels of the company acquiring Optimum Fiberoptics Inc., thereby establishing an East-Coast-U.S. presence. On March 4, R&M announced its acquisition of Optimum, an Elkridge, MD-based manufacturer and supplier of fiber management products for commercial, industrial and government markets with a customer base concentrated in Washington D.C. and the mid-Atlantic region.
At the time of the acquisition, R&M stated that with this East Coast location, it "can offer the full range of products and services nationwide. Further investments will follow over the next 24 months to further strengthen R&M's presence in the North American market."
Markus Huber, executive vice president, R&M North America, commented at the time, "Optimum is an excellent addition to our current activities based out of our North American headquarters in Silicon Valley and will enable us to accelerate our ambitious growth strategy. We are excited about new opportunities. Optimum is ideally located to serve our existing customer base on the East Coast as well as to target new customer groups. Furthermore, it will give us excellent access to the fast-growing data center market area in Washington D.C. and Northern Virginia."
Optimum was founded in 1997. Its co-founder Jay Megan noted, "Over the last 20 years, we have built excellent customer relationships through our in-depth expertise in fiber-optic technology and our ability to react quickly on customer needs. We are proud to become part of R&M and are convinced that with the additional resources and technology we can take our business to the next level."