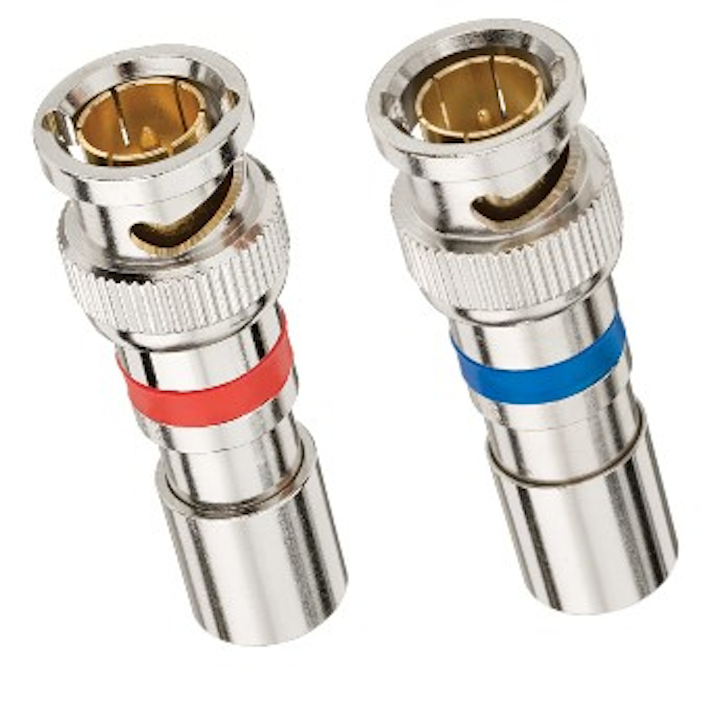 Installers of coaxial systems for CCTV or other video uses can tell many stories about the perils of installing a BNC connector on plenum-rated coaxial cable. Ideal Industries, which has developed connectors specifically for plenum-rated RG-59 RG-6 cables, says, "Standard BNC connectors cannot be installed on plenum cables, requiring the use of specialized plenum connectors."
The newest offering from Ideal is a set of RG-59 and RG-6 Plenum BNC connectors, featuring nickel-plated brass construction for corrosion resistance and field durability. "An estimated 65 percent of CCTV system problems are caused by faulty cable connections and termination," the company says.
The 75-ohm connectors cover dual-shield plenum-rated coaxial cables with a compression-style sleeve that adapts securely to a wide range of outer jacket cable diameters. Its tight fit prevents detachments from CCTV cameras, monitors or DVRs, and stops moisture from entering into the cable. Gold-plated center and outer contacts provide outstanding electrical performance, Ideal says, with a frequency range of up to 3 GHz.
The company recommends the use of its OmniSeal Pro XL compression tool for optimal terminations of these new BNC connectors, as well as for Ideal's F, RCA, RG-11F and mini compression connectors.