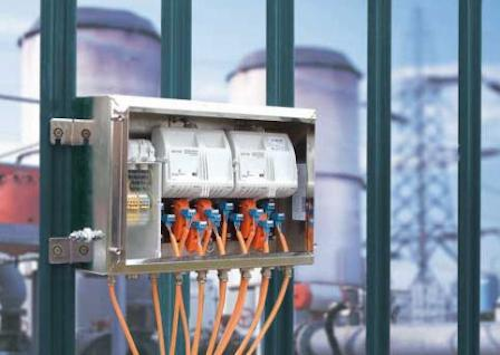 A new range of Fieldbus Barrier wiring hubs from MTL Instruments connects intrinsically safe field instruments to Foundation Fieldbus networks in hazardous areas, its manufacturer says. The 9370-FB series Fieldbus Barrier retains the major benefits of the "high energy trunk" technique while removing the drawbacks associated with Fieldbus barrier implementations, MTL explains. The series of barriers are modular in construction, made up of a fixed carrier assembly and pluggable components that are assembled to form complete self-contained enclosure systems in stainless steel or carbon-loaded fiberglass, and custom-sized.
The manufacturer emphasizes that all parts of the system containing complex electronic circuits are housed in pluggable modules that can be removed and replaced while the equipment is live. "This is in sharp contrast to conventional Fieldbus barrier implementations, where serviceability is made difficult or impossible by the hard-wired nature of the field enclosure," the company said.
Unique connector technology enables significant flexibility, the company added, explaining that the barrier modules, terminator and optional surge-protection devices are all certified for removal and replacement in the hazardous work area without causing an ignition risk.
MTL's technical manager for industrial networks Phil Saward said, "We are confident that the product's innovative features will help users to achieve the improvements in efficiency and plant safety that are required in today's demanding business environment. Not only has MTL responded to the demand for greater flexibility when using the high energy trunk technique, but has also exceeded customers' expectations for easy installation and maintenance of field-mounted equipment in Fieldbus applications."