DIN-rail-mounted patch panels fit industrial applications
The 4-port copper and fiber panels snap securely into a standard 35-mm rail.
May 28th, 2010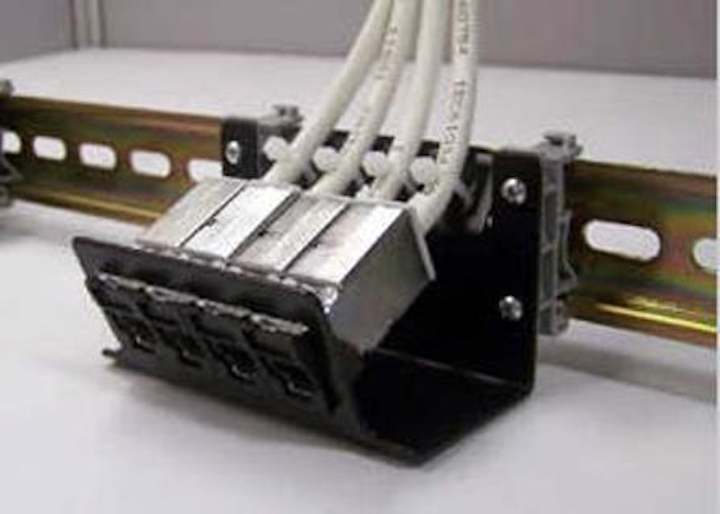 Siemon's new DIN-rail-mounted 4-port patch panels snap into an standard 35-mm DIN rail to provide a quick and flexible patching solution for RJ-45-based copper and optical-fiber industrial Ethernet connections, its manufacturer says. The products allow Ethernet connectivity to be easily mounted wherever DIN rail is available, including in distribution cabinets, alongside DIN rail Ethernet switches and with PLCs and other control devices.
The panels feature an angled mounting design for low-profile cable routing. By angling the outlet orientation, the panel provides ample cable routing space and secure strain relief in 2.75 inches (70 mm) of mounting depth without impeding port access or exceeding performance-critical cable bend-radius requirements.
At 4 inches (130 mm) wide, the 4-port modular panels are side stackable, Siemon says, allowing a simple, high-density expansion path to address expanding network-connectivity needs. The panels are made of steel with industrial black powder-coat finish andi ntegrated cable-management features.
The panels are compatible with Siemon's Z-Max outlets and Max modules, and support a number of connectivity options including Z-Max 6A in both UTP and shielded configurations as well as Category 6 UTP Z-Max; shielded and UTP Category 5e Max; and LC, SC, ST and MT-RJ fiber modules.