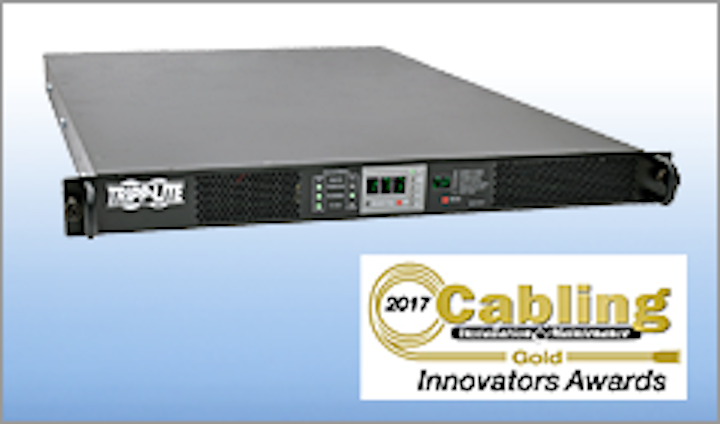 (Center L to R) Tripp Lite's western regional sales manager, Jeff Novak, and Steve Bailey, the company's vice president of channel sales - datacom/telecom/electrical/industrial, receive the company's 2017 Cabling Innovators award from Cabling Installation & Maintenance chief editor Patrick McLaughlin (L) and publisher Alan Bergstein (R).
Tripp Lite (Chicago, IL), a leading manufacturer of power protection and connectivity solutions, announced that it received Gold and Silver-level awards from the the Cabling Installation & Maintenance 2017 Innovators Awards Program. The awards were presented on September 25 at the 2017 BICSI Fall Conference (Sep. 24-28) in Las Vegas.
For Gold -level honors, the awards program recognized Tripp Lite's high-capacity 3-phase automatic transfer switch power distribution units (ATS PDUs). The patented series of five ATS PDUs offers a cost-reducing solution for providing redundant power to 208V clustered server racks. These rack-mount ATS units deliver up to 17.3 kW of redundant AC power to data center servers and network equipment. The ATS units also feature a network interface for remote power monitoring.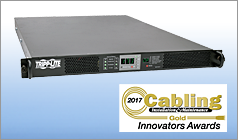 Tripp Lite receives Gold and Silver -level Cabling Installation & Maintenance 2017 Innovators Awards
"We're honored to be recognized for this breakthrough technology that goes far beyond cost savings," said David Slotten, Tripp Lite Vice President of Product Marketing. "These 3-phase rack ATS PDUs help data center managers simplify network management, reduce rack congestion and decrease power needs, giving them much more flexibility at a lower cost."
Tripp Lite's CSC36AC 36-Device AC Charging Cart was awarded the program's Silver -level honors. The cart provides efficient charging and secure storage for dozens of Chromebooks and tablets, while offering versatile features identified by a panel of educators to create an ideal multipurpose classroom solution. The cart's automatic dual-zone charging supports higher wattages without overloads. The sturdy A/V cart features built-in outlets and device storage with lock-and-key security. The network cabinet includes an RJ45 pass-through port for a wireless router. Its laminated wood grain top acts as a convenient writing surface or as a stand for a projector or printer.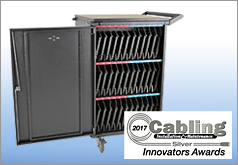 "We're pleased to be honored for this new charging cart," said Craig Watkins, Tripp Lite's director of product marketing. "Using input from teachers, our goal was to meet the challenges of managing up to 36 devices within the limited space of a classroom. In today's technology-heavy learning environment, the CSC36AC provides the most cost-effective and energy-efficient solution."
For more information about Tripp Lite's 3-Phase Rack ATS PDUs, visit: https://www.tripplite.com/products/power-distribution-units-pdus~15?1692=Auto-Transfer%20Switch&1697=3-Phase. For more information about Tripp Lite's line of Charging Carts and Charging Stations, visit: https://www.tripplite.com/products/charging-stations-usb-chargers~38?2057=Charging%20Stations%20%26%20Carts.
Search the Cabling Installation & Maintenance Buyer's Guide for companies, new products, press releases, and videos: