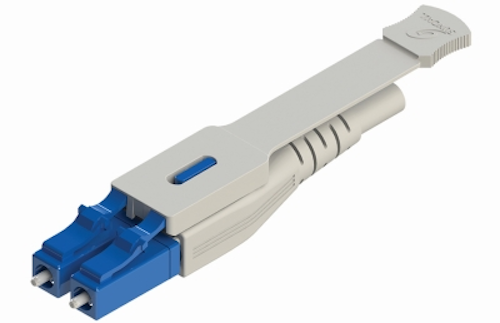 Suncall America offers LC connectors with a uniboot design—duplex connectors with a single boot—with push-pull installation and removal capability. "The LC line of products delivers the high optical performance required by today's most demanding applications," the company said about its connectivity offerings. "The LC Push-Pull Uniboot Connector uses the familiar push-pull installation and removal feature, with an easy, no-jig polarity reversible function for convenient versatility," Suncall added. "The seamless latching design ensures a stable connection and a strong, stress-resistant retention force."
The company also stated that the uniboot connector's small-form-factor design "makes managing cable systems simpler, able to easily connect and disconnect from high-density panels." The LC push-pull uniboot connector is available in singlemode and multimode versions.
"Our staff of engineers, manufacturers, project managers and customer-support staff work directly in collaboration with customers to design and manufacture connectors, adapters and accessories to the exacting specifications of the applications," Suncall concluded.