By Brad (Biju) Oommen
Power over Ethernet (PoE) is an important component of smart building technology and strategy. Using PoE, we can combine the requisite data connection and supply power to a device over a local area network (LAN) cable. This approach to connectivity and delivering power simplifies the work required for installations, thus lowering installation costs and operating costs, and opens up new vistas for a series of applications and use cases.
Plenum-rated network switches can now be installed in the ceiling to provide power and data connection to intelligent LED lighting systems using data cables. For example, lighting systems can become residents on the data network and become an integral part of an Internet of Things (IoT) landscape, allowing us to command and control, and collect usage data as well. Now based on occupancy, you can choose to turn on lighting only in areas that are occupied within a building.
Many of the system used in the building are heterogeneous. However, a PoE ceiling switch can easily aid in the integration and secure interconnection of these systems and other components that form part of a smart building ecosystem. Powered devices (PDs) such as temperature/humidity/CO2 sensors, WiFi access points, digital signage, pan-tilt-zoom (PTZ) IP cameras, in-ceiling speakers, VoIP phones, access-control stations, network door controllers, etc. can all now be powered using Ethernet data cables and connected to the data network. The actionable data and analytics from the above-mentioned systems can contribute toward making the lighting, HVAC systems and other subsystems fully managed, efficient, and contributing toward lower running costs of a smart building.
In view of the above, a plenum-rated ceiling switch is functionally important for the digital ceiling, so that multiple devices can connect efficiently to the IP-based smart building applications such as building-security monitoring/management, energy monitoring/management and control systems.
One such product on the market is the Microsemi PDS-208G digital ceiling PoE switch. The PDS-208G is a 240W passively cooled fanless switch that can be deployed in the ceiling. It is equipped with 8 PoE 10/100/1000-Mbit/sec ports and 2 Gigabit-speed uplink ports. It can provide full PoE-plus (802.3at) power of 30W on a per-port basis on all 8 ports at the same time. In high-power PoE mode, the ports can support up to 72W. The PDS-208G as power sourcing equipment (PSE) while providing Gigabit connections to the connected devices, while also providing additional benefits such as centralized power management. The switch also facilitates troubleshooting powered devices. This capability allows network administrators to remotely power down devices during periods of low use, or if there's a need to power-cycle the devices. By connecting the PDS-208G to an uninterruptible power supply (UPS), the PDs can continue to receive power even during power interruptions.
The switch supports standards including IEEE 802.3af/at PoE, IEEE 802.3x (Flow Control and Back Pressure), SNMP v1 and v2c, IEEE 802.1x Link Aggregation, IEEE 802.1p CoS Prioritization, IEEE 802.1w Rapid Spanning Tree, IEEE 802.1x Port-Based Network Access Control, IEEE 802.3ab LLDP RMON I and II. It also supports IEEE 802.3az Energy Efficient Ethernet, which can be effective in reducing the total power consumed by the 8 PoE ports, as they would consume less power during periods of low data activity.
Using the PDS-208G's 4-pair PoE technology, you can deliver 30W PoE power over 4 pairs versus using 2 pairs very efficiently, with a 50-percent savings in cable losses.
The figure immediately below shows the setup on which I conducted functional testing of the PDS-208G.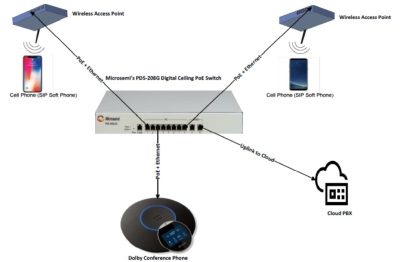 For the functional testing, I used the PDG-208G digital ceiling PoE switch running software version 2.5.3 and the following multi-vendor environment.
Smartphones equipped with VoIP over WiFi for connectivity to the cloud PBX service
Cloud PBX service for the SIP soft phone and the Dolby Conference phone
Dolby Conference phone
Wireless access points
I powered the PDS-208G, configured the requisite parameters, and connected PDs such as WiFi access points, Dolby conference phone, etc. For the functional test setup, I had the Dolby Conference phone working as a SIP phone that was PoE-powered and connected to the PDS-208G. It successfully registered with the hosted call control platform. The SIP clients on the smartphones connected to the call control platform via WiFi access points connected to the PDS-208G. I was able to make inbound/outbound calls successfully on all these devices.
The PDS-208G configuration was easy and straightforward. From an administrator's perspective, I was impressed by the simplicity of installation and versatility of the PDS-208G. I changed the PDS-208G settings using the web GUI. Settings also can be changed using CLI and/or telnet.
At a glance, the LEDs on the PDS-208G provide quick operational information. They convey the status such as: Data LED is lit green (port link is up); is blinking (it is transmitting data and the link is up); PoE LED is lit green (power is delivered over 4 wire pairs); is lit orange (power is delivered over 2 wire pairs); and is blinking green (no PoE power is being delivered). The web GUI system status screen, multiple versions of which are shown below, shows vital and useful information such as power (watt), system power consumption (watt), system available power (watt), and system voltage (volt). For each port I was able to see in real time PoE status, port power consumption, PoE-enabled, output/input traffic, data traffic enabled, etc.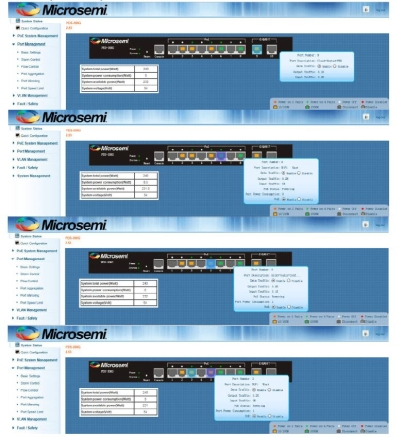 I enabled the hot start UPS feature, then restarted the PDS-208G from the web GUI interface and observed that all the connected PDs continue to receive PoE power, even as the switch was restarting. This is a very useful feature, considering there may be times a user would want to restart the PSE without powering down the connected PDs. This is especially mission-critical for LED-light PDs, as users want the lights to stay always-on, even when the PSE is being restarted
The web GUI also provides information on port management, PoE port information, port statistics and other information.
The PDS-208G digital ceiling PoE switch can provide improved cost savings, by using 4-pair PoE technology and better facilities management by aiding secure Gigabit Ethernet communications between the different subsystems and components of a smart building. Deploying the PDS-208G could results in lower capital and operating expenses, while harnessing the benefits of a smart building ecosystem for a better end-user experience.
Brad (Biju) Oommen is a network architect and principal consultant. His work revolves around multi-vendor product and technology integration. It spans the domains of IP telephony, multimedia contact center, VoIP-H.323/SIP, SDH, EoS, WiFi/VoWiFi, SSL VPN, application acceleration, email and network security, SEM, SAN, IP networks, fiber, and microwave communications. Oommen is not affiliated with Microsemi. He can be contacted at bijuoommenzurch@yahoo.com or bijuoommentoronto@yahoo.ca.