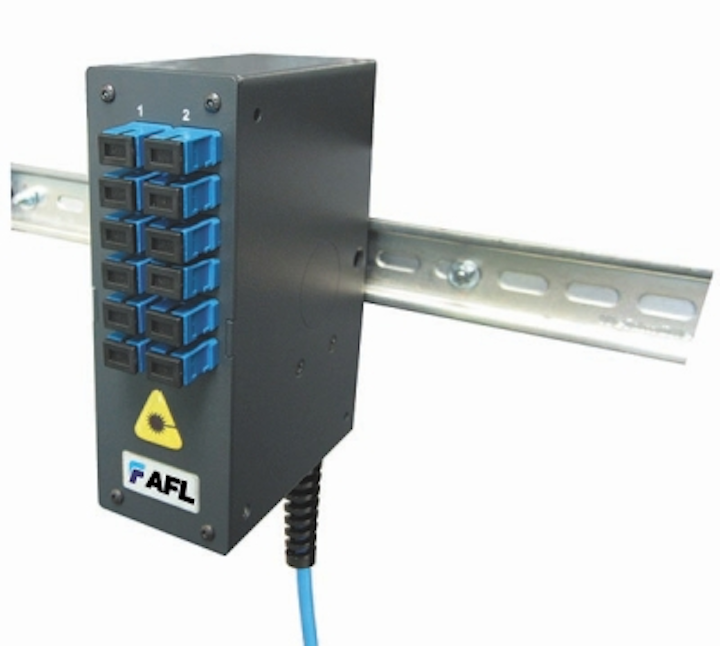 AFL has brought its Mini DIN Rail Mounted Enclosure to the North American market. "This enclosure's compact design gives it the ideal form factor for installation into densely populated industrial cabinets and its small size makes it very versatile for use in a variety of environments," the company said.
Tom Jeffers, product manager for AFL, explained, "The Mini DIN Enclosure was originally developed and manufactured by AFL in Australia. Because the enclosure fills a gap in our portfolio of fiber management systems, we brought the technology to the U.S. to support our North American markets."
The enclosure is available with up to 24 fibers, and in patch, splice and MPO fanout configurations. Multiple enclosures can be linked together to expand capacity. The enclosure also features both top and bottom cable entry to suit the installation environment.
"The enclosure is designed specifically as a compact DIN rail mount enclosure, and offers increased durability and expanded capabilities in patch, splice and MPO applications," Jeffers continued.
It has the capacity to accommodate up to 12 or 24 SC, ST, or LC duplex adapters. It can house preterminated loose-tube and tight-buffered cables, and allows for fusion splicing of up to 24 fibers. It can be used in environments that include process automation and control, intelligent transport systems, rail signaling and control networks, power systems and control, and MTP preterminated cabling solutions.