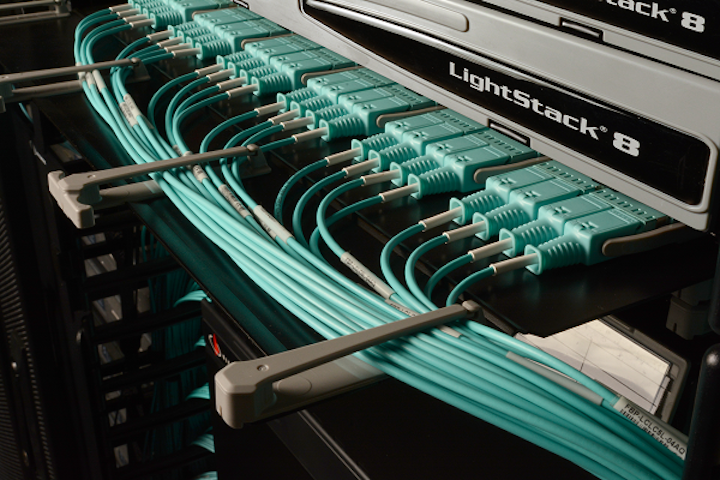 A total of nine connectivity devices received honors at the 2018 Cabling Innovators Awards ceremony on Tuesday, September 11. While it is sometimes said that a connection can be the weak point in a cabling channel, those connection points also are opportunities for innovative developers and users of technology to improve the throughput and the usability of cabling links.
Here are the nine connectivity products that received awards from Cabling Installation & Maintenance in 2018, including brief descriptions of the honored products supplied by their manufacturers.
ROME Robotic Fiber Switch Solutions—Wave 2 Wave Solutions—Gold Award—Wave 2 Wave's ROME 10RU automated fiber switch solution offers an innovative implementation for managing cabling. RESTFUL APIs and integrated management applications enable the Network Engineer to remotely identify cable connections, run diagnostics and quickly build out topologies. The Logical Control Unit (LCU) is a separate 1RU chassis that hosts CPU, memory, driver with real-time OS and ROME software, as well as redundant power feeds and network and console interfaces. Network connections are made using a built-in MTP and/or LC patch panel.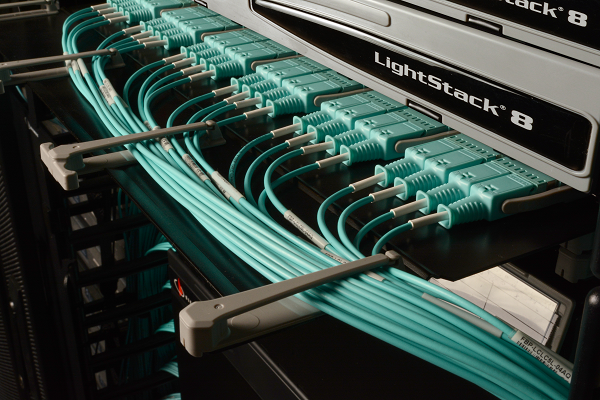 LightStack 8 Ultra High-Density Plug-and-Play Fiber System—Siemon—Gold Award—8-fiber plug-and-play solutions such as Siemon's LightStack 8 Ultra High-Density Plug-and-Play System, known as Base 8, are considered the most efficient option for today's fiber deployments in switch-to-switch data center applications. Using either modules that break out 8-fiber MPO/MTPs to duplex LCs or pass-through 8-fiber MPO/MTP adapters, Base 8 plug-and-play systems enable 100% fiber utilization for both current and future duplex and 8-fiber applications without the need for conversion cords or conversion modules. Not only does LightStack 8 offer the most efficient support for current and future fiber applications, but it also offers superior density of 144 LC fibers or 864 MTP fibers in 1U or 576 LC fibers and 3456 MTP fibers in 4U. With a sliding bottom rear divider, swing-open cable management clips, integrated strain relief and an easy-open magnetic door that eliminates potential pinch points, LightStack 8 also offers excellent port access, cable management and fiber protection in sleek, modern 1U or 4U enclosures.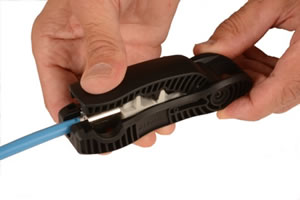 Siemon's Z-PLUG field-terminated Cat6A plug targets intelligent building links
Z-Plug Field Terminated Plug—Siemon—Gold Award—Siemon's Z-PLUG Category 6A Field Terminated Plug exceeds all Category 6A performance requirements and offers quick, reliable high-performance plug terminations in the field that enable direct custom-length connections directly into IP-enabled devices. Z-PLUG terminates to both shielded and UTP, solid and stranded cable in conductor sizes from 22 to 26 AWG, allowing easy deployment for a wide range of projects and applications – all with a single part number and simplified bills of material. With the ability to easily support high-speed applications like 802.11ac Wi-Fi, Z-PLUG delivers future-proof connectivity.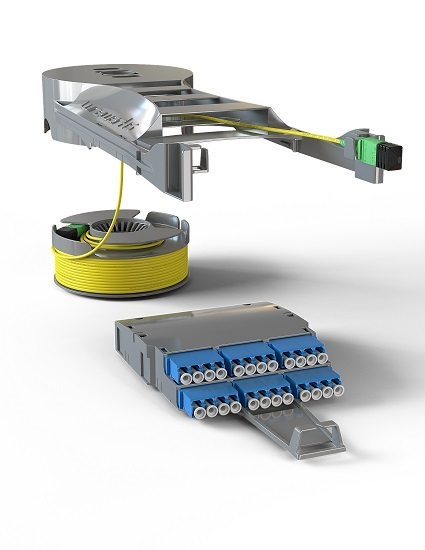 NextStep Flex Module—Wirewerks—Gold Award—Wirewerks engineers worked closely with a diverse group of network providers, consultants, cabling contractors and end-users to define, develop and test the brand new NextSTEP Flex Module; the latest addition to the NextSTEP Technology System and Wirewerks' powerful response to the industry's demand for the next wave of innovation in MPO plug'n'play networks. The NextSTEP FLEX Module is a ready-to-use 12/24F MPO-MPO factory terminated and tested cable assembly with up to 30 meters of trunk cable stored in an onboard reel, extendable to 500 meters through use of an external reel. The Flex Module is fully compatible with all NextSTEP Rack Mount Patch Panels and Wall Mount Enclosures.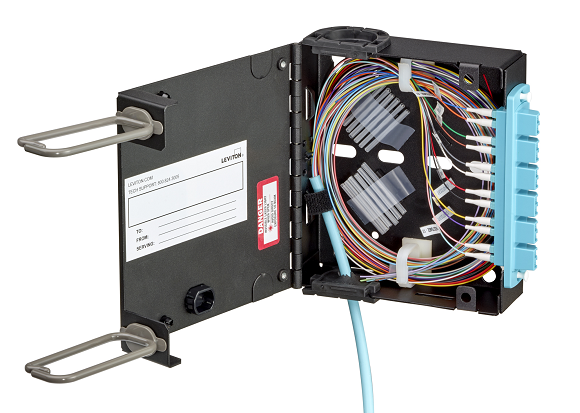 Opt-X SDS Mini Wall-Mount Enclosure—Leviton Network Solutions—Silver Award—The Leviton Opt-X SDX Mini Wall-Mount Fiber Optic Enclosure Redefines Patching Fields for Edge Computing to meet the Demands of the Internet of Things and the advent of Fog Computing and Micro Datacenter Environments. It opens new networking possibilities in applications ranging from telecommunications closets and cloud data centers, to edge and fog computing. It is built with a feature set to enable a diverse range of networking styles and methodologies.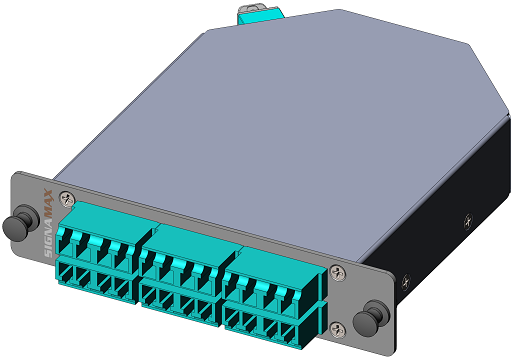 Customizable Optical Fiber Cassette—Signamax—Silver Award—The major goal of the new optical fiber cassette design is to provide installers and end-users with a convenient one-product solution giving them flexibility in quickly changing configurations of optical fiber connections and cable entry direction. The cassette incorporates switchable rear cable entry, interchangeable front adapter plates, and interchangeable rear cable entry adapter plates.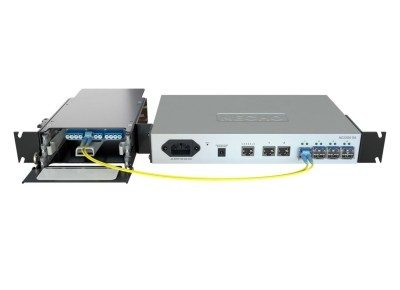 NextSTEP minus1U Patch Panel—Wirewerks—Silver Award—The NextSTEP Minus1U Patch Panel consolidates fiber cable management and active equipment in the same 1U of rack space. The Minus1U Patch Panel divides 1U of rack space into a NextSTEP chassis on one side along with a reserved space on the other side to receive active network equipment including hubs, routers and switches. It is available in a switch-specific model and in a universal tray model.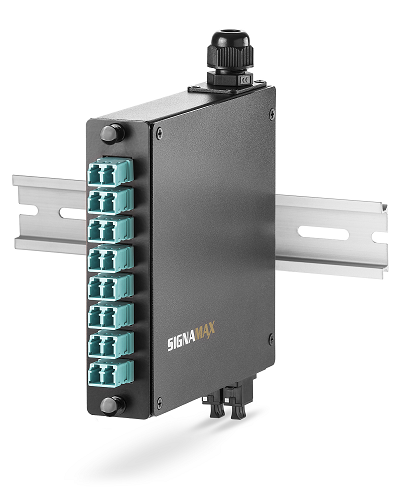 Multimedia Distribution Box—Signamax—Silver Award—Signamax's Multimedia Distribution Box can be used in a variety of applications (industrial, SOHO, FTTx) where compact standalone distribution device capable to provide practically any type of connection is needed: hubs for passive cabling interconnection or cross-connection, active equipment connection to cabling, media-conversion hubs, and FTTx transition points.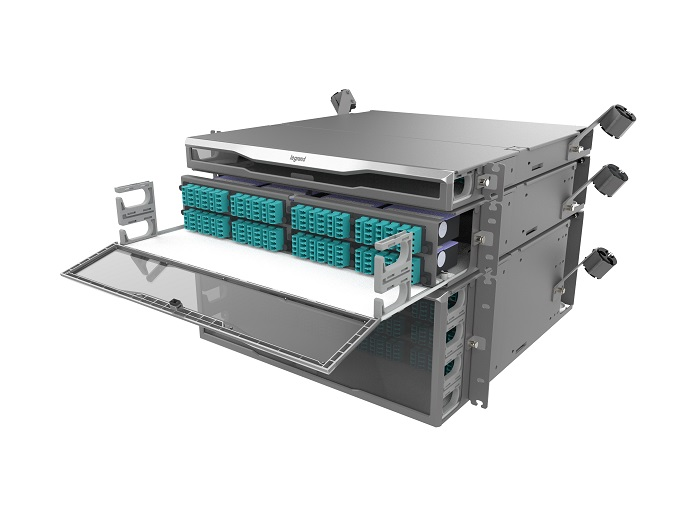 Infinium High-Density Fiber Enclosure—Legrand—Silver Award—The Infinium High-Density Fiber Enclosure was developed based on extensive research and interviews of industry end users, who helped shape the key features found within the enclosure. The enclosure was designed to be easy to work with, allowing for one-person installation, with a tool-less feature set, and versatile cable management options to help protect fiber at every point.