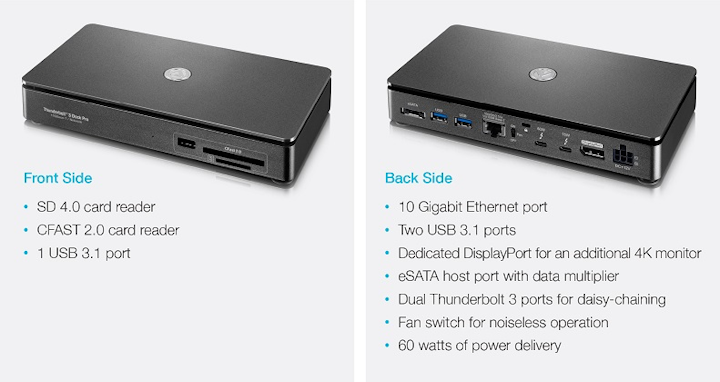 Aquantia Corp. (NYSE: AQ), a developer and supplier of high-speed silicon chips for multi-gigabit Ethernet connectivity, announced that Akitio has selected the Aquantia AQtion AQC107 Ethernet controller for its Thunder3 Dock Pro laptop docking station with 10 Gigabit Ethernet (10GbE) capability. A single cable connected to the Akitio Thunder3 Dock Pro not only provides a 10GbE port, but also a variety of other connections including an SD 4.0 card reader, a CFAST 2.0 card reader, an eSATA port, a DisplayPort, an additional Thunderbolt 3 port and three USB 3.1 ports. Both macOS and Windows notebook users can achieve up to 10GbE networking speeds via the docking station.
The Thunder3 Dock Pro provides an RJ45 Ethernet port backed by Aquantia's AQtion AQC-107 Ethernet controller that supports 2.5GbE, 5GbE and 10GbE networks. It is also backwards compatible to support legacy 10/100/1000BASE-T networks. Per a press release by the companies, "Business users, content creators, gamers or any user looking to streamline their workspace will benefit from the simple, fast setup of the Thunder3 Dock Pro. They can enjoy the slimmest and lightest laptop design and own 10 Gigabit Ethernet bragging rights along with computer port paradise. The addition of so many extra ports is a huge bonus for laptop users."
Compliant to IEEE 802.3bz standard, Aquantia AQtion Ethernet devices are backward-compatible with legacy 1000BASE-T Ethernet. The AQtion AQC107 has the added benefit of supporting 10GBASE-T Ethernet in compliance with the IEEE 802.3an standard. By supporting PCI Express x4 and x1 versions with a single RJ45 port, these AQtion based devices can be used to easily upgrade existing PCs to fully utilize the bandwidth capabilities of modern CPUs and GPUs.
SEE ALSO: Aquantia's Ethernet silicon ramps multi-gigabit networking into NVIDIA DRIVE autonomous vehicle platforms
"Akitio is changing the mobility game," says LK Bhupathi, vice president of marketing at Aquantia. "The possibilities are endless for users – there's more network speed, more pixels, more performance and zero compromise. Finally, slim light laptops can offer the same versatility as traditional tower designs. The Thunder3 Dock Pro with the AQC107 controller offers a fresh approach to delivering Multi-Gig capabilities to an underserved market."
"To deliver the best in speed, performance and productivity with the Thunder3 Dock Pro it was natural that we turned to Aquantia, the undisputed Multi-Gig champion," adds Richard Wright, vice president of sales and marketing at Akitio. "We always look to deliver top technologies in our products and we are very pleased with the AQtion AQC107 as it provides a critical connectivity component that we believe to be the best solution for our Mac and Windows customers."