A technical paper recently published by Siemon and authored by its global sales engineer, Valerie Maguire, provides in-depth information on the current standards-development activities related to single-pair cabling and single-pair Ethernet, as well as the practical implications these technological developments can have on enterprise networks. Titled "The Emerging Role of Single-Pair Cabling in Enterprise Networks," the paper provides background information on why single-pair standards are under development, as well as the status of TIA and IEEE standards efforts, and information on powering capabilities within single-pair systems.
The 12-page paper's introduction states, "Did you know that it's possible to support 1000-Mbit/sec Ethernet transmission rates over a 1-pair copper cable? While initially developed to support automotive applications, it is now recognized that single-pair or 'Base-T1' Ethernet could fill the gap to support industrial (e.g. RS-432 and RS-485), automation, and other low-speed connections with non-proprietary cabling, while also providing a path for them to merge with Internet of Things devices in the enterprise space.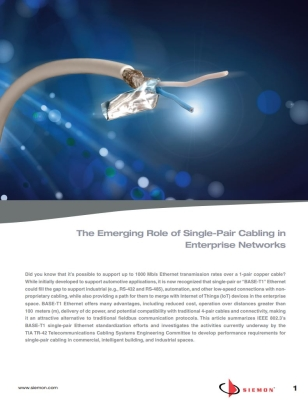 "Base-T1 Ethernet offers many advantages, including reduced cost, operation over distances greater than 100 meters, delivery of DC power, and potential compatibility with traditional 4-pair cables and connectivity, making it an attractive alternative to traditional Fieldbus communication protocols," the introduction continues.
The paper's opening section, subtitled "The Machines Can Talk," describes the role of machine-to-machine (M2M) communication and the need for low-speed connectivity. The next section, "A Growing Need for Single-Pair 10-Mb/s Ethernet" explains the advantages of Ethernet transmission over Fieldbus or other legacy protocols. Other sections of the paper are subtitled "Link Segments and Mixing Segment," "Optional Power," "TIA Developing Single Balanced Twisted-Pair Cabling Specifications," and "ISO/IEC Activity." It includes several tables, which describe the multiple TIA standards activities addressing single-pair cabling, as well as which cabling specifications will support which "Base-T1" applications.
You can download the paper free of charge from Siemon's website here.