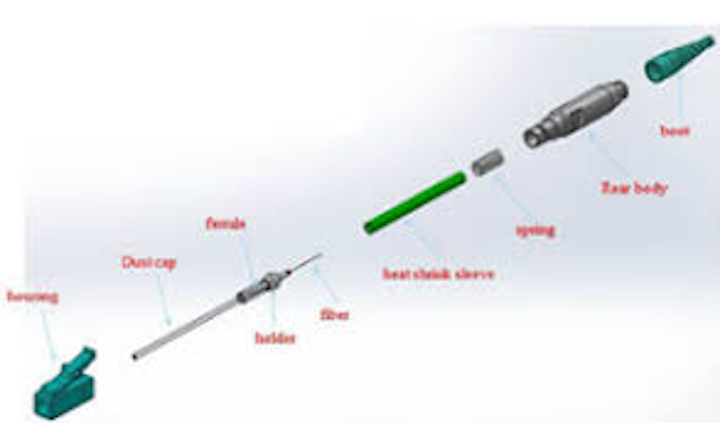 Belden Inc. has announced additions to its FiberExpress (FX) Fusion Splice-On Connector line, which presents alternatives to mechanical splicing. New SC 2mm and SC 900um connectors in the company's FX Fusion Splice-On Connector family not only meet ANSI/TIA-568-D3 requirements, but now also meet GR-326/1081 requirements as well. This ensures that – unlike mechanical splice connectors – these connectors will perform well outdoors in telecommunications plant environments, notes Belden.
Per the company: "The FX Fusion Splice-On Connector combines the benefits of fusion splicing with the simplicity of field-installable connectors. Allowing installers to ditch the old, time-consuming method of mechanical splice connectors, the FX Fusion Splice-On Connector supports more efficient deployment and easier termination. Instead of relying on index matching gel to fill gaps, fibers are precisely aligned through an automated process to provide better performance than a mechanical splice, with maximum insertion loss of 0.20 dB as compared to 0.50 dB (OM4). Automated splicing tools provide instant, quality feedback for successful termination.
As compared to mechanical splice connectors, FX Fusion Splice-On Connectors can reduce total installed costs by 20% through lower material and labor expenses. They also offer a 3% increase on first pass yields, translating to less field rework.
No crimping, polishing or adhesives are required for termination. Fewer splice management accessories are also required during installation – the FX Fusion Splice-On Connector eliminates the need for splice enclosures and splice trays. The fiber ferrule is ready for termination, with a pre-cleaved and pre-cleaned fiber stub. The connector also allows exact channel lengths to be run, eliminating cable shorts and excess slack.
The FX Fusion Splice-On Connector can be used with nearly all fusion splicers, and is ideal for indoor and outdoor applications. SC 2mm and SC 900um connectors are available in OM1, OM3/4, OM4, OS2 or OS2 APC versions. Standard and precision installation toolkits are also available, along with standard and precision cleavers and universal splice holders."
For more information about Belden's FX Fusion Splice-On Connectors, visit www.belden.com/splice-on.
Search the Cabling Installation & Maintenance Buyer's Guide for companies, new products, press releases, and videos: