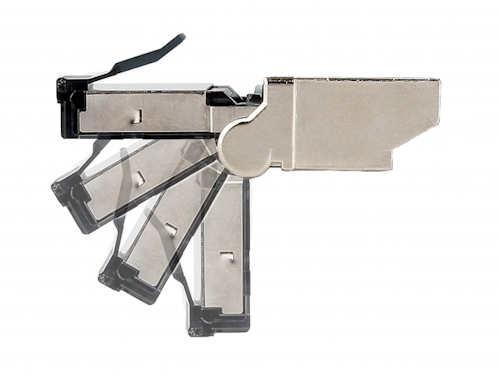 In a run-up to InfoComm 2018 (June 6-8) in Las Vegas, Platinum Tools has announced the launch of what it calls the first bendable RJ45 connector. Available in shielded and non-shielded versions (p/ns 106220; 106230), the company's new Flex Connector is now shipping.
The company says the Flex Connector accommodates multiple category sizes (Cat 5e/6/6A) up to 9.0 mm with 24-22 AWG conductors. Factory pre-set contacts improve reliability. The connector is rated for electronic safety and security applications and is PoE+ rated, 1GHz, and 10-Gigabit certified for high data traffic. The new product also meets cable standards including: ISO 11801 Edition 2, EIA/TIA 568-C.2, TIA1096-A, BICSI/ANSI D005 and ANSI/TIA-862-A.
"Flex Connector is the first bendable RJ45 connector and makes network cable terminations easier than ever," comments Jason Chesla, Platinum Tools' marketing manager. "The unique patented design ensures top tier performance for Cat5e/6/6A cabling up to 9.0mm with 24-22 AWG conductors, providing a low cost, easy termination solution with high performance and superior connectivity options."
Per a Platinum Tools product press release, "No need for crimp tools. Set it up, close it and go. Connect and install devices nearly flush with the wall. No need for wall plates or jumpers. Cables can drop at 90 degrees down or run 45 degrees up."
For more information, visit www.platinumtools.com, call (800) 749-5783, or email info@platinumtools.com.
Search the Cabling Installation & Maintenance Buyer's Guide for companies, new products, press releases, and videos: