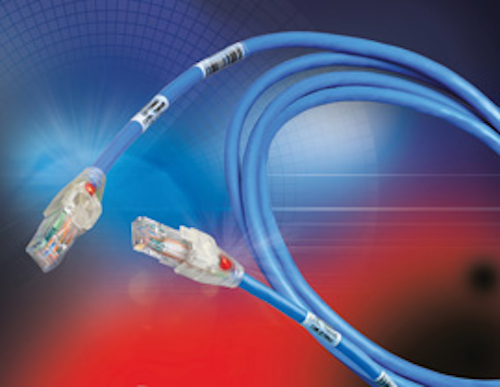 From the April, 2013 Issue of Cabling Installation & Maintenance Magazine
---
:: Traceable patch cord assemblies
The traceable bonded-pair patch cords meet the need to quickly and easily identify and trace network connections in high-density and mission-critical infrastructure environments, Belden says. An LED light is activated with a simple press of a button on the low-profile plug, and flashes on both ends of the cord, the company further explains. The cord is available in 10GX (Category 6A) and Cat 6+ brands.
The traceable cords' features include a unique serial number and bar code at the end of each cord for use with mobile data center infrastructure management (DCIM) systems.
Belden
www.belden.com
---
:: Tap module
The Pretium EDGE Tap Module enables passive optical tapping that is fully integrated into the structured cabling footprint. A passive optical tap device uses a fiber-optic coupler to divide the optical signal into two outputs--one for live traffic and one for monitoring traffic. The live traffic continues through the system link, while the monitor traffic is sent to port-monitoring electronics. The Pretium EDGE Tap Module uses an advanced optical coupler to reduce insertion loss and increase distance on Ethernet and Fibre Channel links.
The module combines the functionality of an interconnect, crossconnect and optical tap in one structured cabling module. It allows network managers to add or remove monitored ports without disrupting the live network link, and accommodates interconnect or crossconnect designs.
Corning Cable Systems.
www.corning.com/cablesystems
---
:: 28-AWG preterminated cords
Panduit's copper patch-cord offering now includes 28AWG, small-diameter unshielded twisted-pair (UTP) Category 6 and Category 5e options. As the company explains, smaller cable diameter allows as much as twice the amount of cables to be routed through cable managers and pathways when compared to traditional Category 6 and Category 5e patch cords. The smaller cable diameter improves air flow and cooling efficiency within an enterprise data center or TR. Additionally, smaller bend radius enables improved cable routing and management in high-density applications. Each cord is tested for wiremap, near-end crosstalk and return loss.
Panduit
www.panduit.com
---
:: MPO-adapter test kit
The MPO parallel-optics test solution for Psiber Data Systems' WireXpert cable certification tester enables data center information technology managers to obtain quick and accurate assessments of the quality of MPO links, Psiber Data says. The test kit also helps perform incoming inspection of MPO components like cassettes. The company explains the test kit's key features include a five-second autotest, which includes a detection of fiber connection map and measurement of loss on each channel.
The test kit supports MPO polarity methods A, B and C as well as non-standard polarity setup. Psiber explains, the ability to configure active fibers enables testing of customized parallel optic links such as 8-fiber MPO links. The test kit also has the ability to test breakout links from MPO end to SC/LC end. Settings, data storage and reporting are integrated into the tester.
Psiber Data Systems
www.psiber.com
---
:: Fiber-optic trunking system
CABLExpress's Skinny-Trunk fiber-optic cabling system has been improved by several structural and performance enhancements to jumpers, harnesses and assemblies. The Uniboot fiber jumper's diameter has been reduced from 3 mm to 2 mm. The harnesses and assemblies are now also available with the 2-mm cables with LC breakouts. Cabling performance has been improved to provide maximum assembly loss of 0.4 dB (MPO-to-LC) and maximum insertion loss of 0.25 dB (per mated MPO pair). The system also includes the H+ Enclosure and 12U H-Series Enclosure.
CABLExpress
www.cablexpress.com
---
:: Om3, Om4 and singlemode assemblies
Siemon recently expanded its line of copper trunks and fiber plug-and-play preterminated trunking solutions with the XGLO RazorCore assemblies, which have a significantly reduced outside diameter for space savings and maximum air flow, the company says. The assemblies are available in Om3, Om4 and singlemode options, providing "an efficient, cost-effective alternative to individual field-terminated components," Siemon adds. The company says the XGLO RazorCore assemblies offer up to 75-percent faster deployment compared to traditional field termination. The assemblies are available with optional encapsulation protection sleeves with cable-pulling eyes for protection during installation; they are compatible with all the company's fiber enclosures.
Siemon
www.siemon.com
More CIM Articles

View Archived CIM Issues