From the January, 2014 Issue of Cabling Installation & Maintenance Magazine
Preterminated Systems
:: RapidNet hybrid panels
The newest addition to HellermannTyton's RapidNet preterminated solution family--RapidNet hybrid panels--provides a simple "mix-and-

match" approach for high-density copper and fiber, the company explains. The extremely versatile panels accommodate high-density preterminated copper and fiber cassettes as well as MTP brand fiber cassettes. Panels offer capacity for the equivalent of 1U of fiber and 1U of copper in 1U of rack space, saving 1U of rack space each use.
Two panel configurations are available, designed to meet the demands of today's multi-format networks. RapidNet hybrid panels allow for a combination of RapidNet 12-port high-density copper and 12- or 24-strand fiber (direct terminated or MTP cassette), or high-density copper and RapidNet MTP VHD for up to 288 fibers.
Panels can be fully loaded from the outset or added to as demands on the installation grow. This allows the infrastructure to be increased without affecting previously installed cable looms or having to go offline. The system can be used in data center, disaster recovery, storage network, server farm, colo facility, central office and temporary applications.
HellermannTyton
www.hellermann.tyton.com/rapidnet
:: Consolidation point for securing preterm assemblies
The Oberon Model 1074 is a locking 2-by-2-foot suspended-ceiling, plenum-rated, general-purpose telecommunications enclosure designed as a consolidation point for securing preterminated "plug-and-play" copper and fiber-optic cable assemblies in a zone structured cabling design, Oberon says. The enclosure also can be used to secure active equipment including optical network terminals (ONTs), small workgroup switches, wireless access points and distributed antenna system (DAS) access units.
The Model 1074 is UL-listed and designed to meet National Electrical Code 300-22(C) for use in the above-ceiling (plenum) space. Metal enclosures satisfy UL 2043 Fire Test for Heat and Visible Smoke Release. The 1074 has firestopped openings large enough for the multifiber array modules, and multicopper connector modules used in preterminated solutions.
Oberon
www.oberonwireless.com
Preterminated Systems :: P3Link Xtreme
Opticonx has launched the P3Link Xtreme product line, a preterminated fiber-optic cabling system featuring what the company describes as "a powerful upgrade for all legacy P3Link systems." Opticonx further describes P3Link as a "compact, high-density, low-loss and high-performance product line" that is "an easy way to update or install new fiber-optic cabling systems in data center, storage area network, and local area network environments."
The P3Link Xtreme Pull, Plug and Patch system consists of injection-molded small-form-factor MTP brand cassette modules, MTP brand trunks, harnesses, patch cords and patch panels. Opticonx explains that all products are manufactured in the United States and are designed to enhance performance, provide density up to 144 fibers in 1RU, and boost optical performance in the data center/SAN and campus backbone environments. The company guarantees performance for Gigabit Ethernet, 10-, 40- and 100-Gbit Ethernet, and Fibre Channel.
Other characteristics include: lightweight, slim cassette modules; compact trunk cables, bend-insensitive fiber.
Opticonx
www.p3linkxtreme.com
:: e2XHD patching system
The e2XHD Patching System is an easy-to-connect, high-density solution for enterprise and data center applications where fast deployment and simple maintenance are critical, explains Leviton. The system includes patch panels, preterminated cassettes and additional cable management. The cassettes quickly snap in and pull out of panels, making installation, moves, adds and changes easier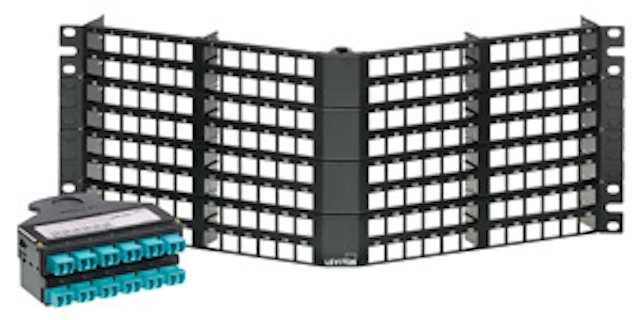 than ever, the company says.
The high-density panels hold up to 48 fiber channels or copper ports in a 1RU panel, or 192 in a 4RU panel. Alignment tabs on the panels ensure that cassettes align upright and easily. To remove cassettes from panels, a user simply pulls on the cassette handle; no tools are required.
Preterminated fiber MTP-brand cassettes allow for a simple migration path to 40-GbE and 100-GbE networks. The cassettes are available in MTP-LC or MTP-MTP, with 12- or 24-fiber low-loss MTP connectors. The MTP adapters on the rear of the cassettes swivel to simplify cable routing and ensure proper bend radius. Copper cassettes accept individual Category 6A and Category 6 QuickPort connectors, or are available preterminated on Leviton trunk cables.
Leviton, www.leviton.com/e2XHD
:: 24-fiber MPOptimate
TE Connectivity's 24-fiber MPOptimate trunk and interconnect system provides a clear, manageable strategy for evolving data center infrastructure, the company says. By leveraging 24-fiber trunk cable technology, the solution provides data center managers with a standardized fiber infrastructure that remains in place for each step in the migration process, eliminating replacement material, labor and reducing "day-two" costs, TE adds.
The system provides significant space savings and cost benefits associated with higher utilization of fiber investments, the company notes. TE adds that MPOptimate provides the following characteristics: a simple and cost-effective migration from 1000Base applications to 10, 40 and 100 GbE; faster deployment through simplified design and uniform installation; improved insertion and return loss performance over standard MPO solutions; uniformity of designs, installations, moves/adds/changes and system management; reduced-diameter cables for easier cable management and significant space savings.
TE Connectivity, www.te.com/datacentermigration
:: HiLOC integrated fiber solution
Protecting and supporting fiber, conserving loss and saving space were fundamental in developing the innovative HiLOC system, says Legrand Ortronics. Traditionally a trunk cable is plugged into an MTP brand-to-LC cassette, and then LC-to-LC patch cords are connected from the cassette to the device. The HiLOC: Harness in Lieu Of Cassette is used as the interface from the trunk cable to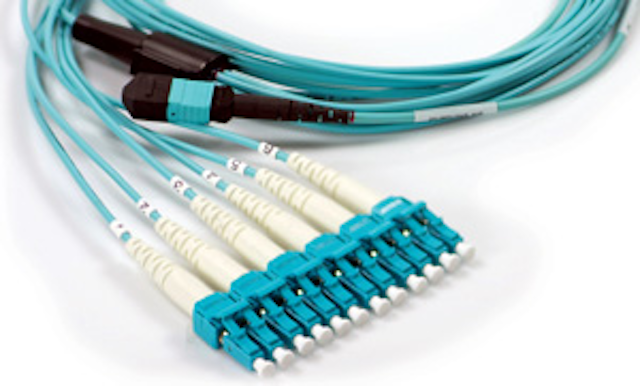 the switch, replacing the cassette.
This Ortronics brand solution includes a configurable harness with a physical support mounting element, a mounting panel and a 2U enclosure designed to maximize the harness features. Installing a HiLOC harness eliminates a connector pair from the link, conserving 0.75 dB of loss. Creating a neater, cleaner installation, Legrand Ortronics points out, the HiLOC saves space and maximizes airflow with a single 12-fiber, 3-mm microdistribution cable in place of six separate patch cords.
Providing continuous physical support integration, the Mighty Mo 20 Rack System, which will be introduced in February 2014, will have a universal cable trough with slots that will attach to the HiLOC mounting feature. Legrand says the solution is "designed to be better," as its trademarked term indicates.
Legrand Ortronics
www.legrand.us
:: Fiber and copper systems
Belden's FiberExpress systems support everything from legacy fiber systems and current backbone and data center links to future high-speed fiber transmission and long-reach applications, the company says. the FiberExpress system consists of UHD housings, shelves and cassettes; MPO trunk assemblies; multifiber assemblies; and patch cords. The company characterizes the systems as uncomplicated, robust, versatile and conveniently available; they are available in off-the-shelf standard configurations and rapid custom-tailored installations.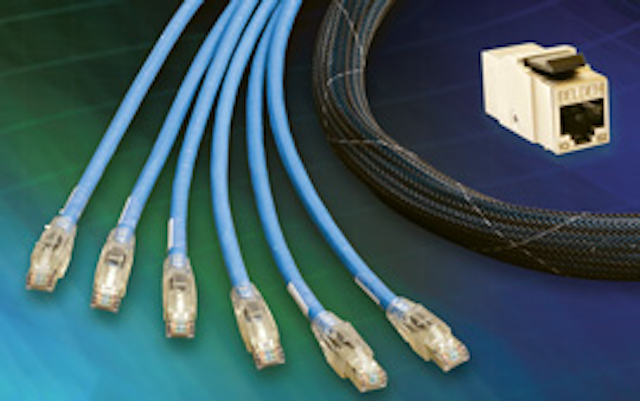 The copper system enables a 90-percent reduction in installation time, requires virtually no testing or troubleshooting, and provides a 10-dB margin on alien near-end crosstalk compared to TIA standard specifications, the company says. At the heart of the 10GX Shielded Preterminated Cabling System are the 10GX Shielded Preterminated Cable Assemblies and 10GX Shielded RJ45 Modular Couplers. The system is fully supported under the IBDN 10GX Certification Program, including guaranteed 625-MHz bandwidth, complete support for 10-Gbit/sec Ethernet, and a 25-year product warranty.
Belden
www.belden.com
:: 4th Level end-to-end solutions
As part of its 4th Level end-to-end optical fiber data center and enterprise network solutions, Sumitomo Electric Lightwave provides preterminated interconnect and trunk distribution cable assemblies in addition to its patented flagship Lynx2 CustomFit Splice-On MPO, SC, LC, FC and ST connectors.
"As a one-stop optical fiber infrastructure resource for today's data center and enterprise networks, it's vital to offer the customer choices, flexibility and versatility," comments Bill Charuk, 4th Level's product manager.
Less-than-optimal-performing preterminated assemblies can be the weak link in a data center or network solutions, causing serious network downtime, Sumitomo explains--adding that its preterminated products are 100-percent optically and visually inspected for reliability and "employ the industry's best high-performance connectors, backed by speedy delivery and unprecedented service."
The assemblies are offered in a wide array of customizable termination and cable options. Available with up to 144 optical fibers, they can be designed with all fiber types and with insertion and return loss performance that meets or exceeds industry standards.
Sumitomo Electric Lightwave
www.sumitomoelectric.com
:: Fiber reels with preterminated multifiber cable
Fiberdyne Labs Inc.'s medium Fiber Reels (FR-WD2) are available with preterminated multifiber cable from today's various fiber and cable types. The new reels accommodate the following cable diameters: 1) small capacity, FR-WD1--maximum size 750 feet of 0.25-inch-diameter cable; 2) medium capacity, FR-WD2--maximum size 1,600 feet of 0.25-inch-diameter cable; 3) large capacity, FR-WD4--maximum size 5,700 feet of 0.25-inch-diameter cable.
The Fiber Reels are part of a plug-and-play system that includes preterminated multifiber cable and preterminated termination boxes. Fiberdyne Labs preterminated cable is available with pulling eyes that are flexible enough to be pulled through conduit. The company says its preterminated cable and termination boxes are time-savers.
Fiberdyne Labs Inc.
www.fiberdyne.com
:: Xpress Fiber Management High-Density system
AFL's Xpress Fiber Management High-Density (XFM-HD) preterminated system is designed to offer intuitive fiber management and unmatched fiber-port accessibility on both sides of the panel, the company says. AFL adds that the system is ideal for extremely dense applications by supporting the management of up to 576 fibers in a 4RU space. The completely modular solution features zero-loss MPO-style trunk cable assemblies, the company says, along with optical fanout cassettes with integrated fiber management and uniboot 2-mm LC jumper assemblies. The combination of products equates to efficient moves, adds and changes and, AFL notes, more-accurate cost budgeting because there are no other products or accessories required to complete or modify an installation.
The uniboot LC connector allows for reversal of polarity in the field without requiring the use of tools, which AFL points out eases assimilation into existing installations. MicroCore brand trunk cables offer operators a reduced cable diameter, which eases congestion in busy raceways, and feature a protective pulling eye solution designed to add efficiency and security to moving the trunks through densely packed ducts and conduits.
The system is engineered for data centers, central offices, headends, structured cabling networks and main distribution frame/storage area network applications.
AFL
www.aflglobal.com
:: Modules for passive optical tapping
These MTP-to-LC tap modules from CABLExpress allow for passive optical tapping, enabling more-efficient network monitoring and cabling-infrastructure management. The modules split signals into two fibers, sending a portion to the live network and the remainder to a test environment.
They provide an effective way for enterprise and data center managers to assess their network traffic, the company says. By integrating with the Skinny-Trunk Solution, the modules save space in the data center and minimize the need for additional cabling and hardware for testing purposes.
These modules include what CABLExpress describes as "ultra-low-loss components" that provide flexibility in fiber-network design. They also are characterized by a rugged design that allows fiber to remain secure. The modules are available in 1-, 6- and 10-U H Series options as well as 1-, 2- and 4-U RSD Series options--and in Om3, Om4 and singlemode versions.
CABLExpress
www.CABLExpress.com
:: Copper plug-and-play system
Cablesys copper plug-and-play solutions comprise preterminated cable assemblies and bundled patch cords. They provide a quick way to install backbone crossconnect cabling. The assembly has a unique cassette design for installation between racks or cabinets, the company says, and the plug-and-play solution simplifies the process to a point at which anyone can complete the job using a measuring tape and common screwdrivers. The system accommodates quick moves, adds and changes.
According to Cablesys, the company manufactures and builds preterminated cable assemblies and bundled patch cords at its Southern California factory using Category 6A, 6 and 5e copper cables and connectivity. The assemblies and bundled patch cords are factory-terminated and tested to perform above TIA standards. Every assembly shipped includes test results, and the assemblies and cords are covered by a 15-year performance warranty.
Cablesys
www.cablesys.com
More CIM Articles

Archived CIM Issues