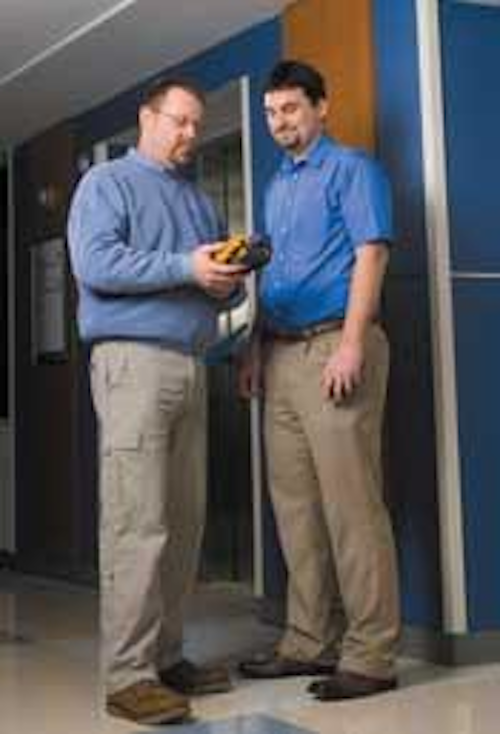 Why a Missouri Level 1 trauma center chose shielded over unshielded twisted pair with third-party performance testing and verification.
by Michael O'Connor
As one of only 11 organizations named on Hospitals & Health Networks' (www.hhnmag.com) list of "100 Most Wired Hospitals and Health Systems" for six straight years, it's no surprise that St. John's Health System (www.stjohns.com) in Springfield, MO isn't just enhancing its facilities. Over the years, the hospital has upgraded its network cabling standard from Category 5e to 6, and its latest upgrade calls for acopper cabling solution capable of supporting 10 Gigabit Ethernet (10 GbE) over a 100-meter copper channel.
This particular upgrade will deliver an advanced electronic healthcare record system to the patient bed and prepare the hospital for high-speed future technologies without disruptive recabling.
A Top 10 integrator
Serving the residents of southwest Missouri and northern Arkansas since 1891, St. John's Health System is the region's only Level 1 trauma center and was the number-one-ranked center in Verispan's (www.verispan.com) 2007 100 Top Integrated Systems Survey—achieving top-20 status for the sixth year. The ratings are based on Verispan's trademarked IHN Rating System, which evaluates each network's ability to operate as a unified organization in each of eight categories: integration, integrated technology, contractual capabilities, outpatient utilization, financial stability, services and access, hospital utilization, and physicians.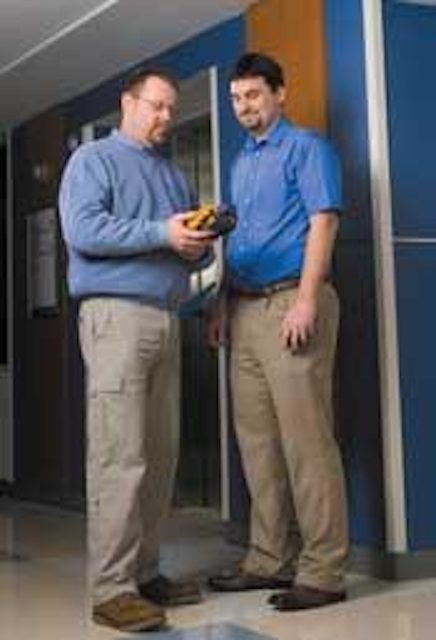 Dave Turner of CIS Data Services (l) and Ian Flanders of St. John"s Health System verify 10-Gigabit Ethernet performance of the Hubbell/Berk-Tek shielded solution via third-party test results from ETL and on-site testing following installation.
Click here to enlarge image
As one of the 36 states that require a Certificate of Need for healthcare construction, Missouri gave St. John's the go-ahead for a $320 million master sites and facilities plan in late 2001. Since then, the hospital has grown to meet the needs of the surrounding community, including a new emergency trauma and outpatient diagnostic center, radiosurgery center, and expanded sports medicine and physical therapy building.
With a goal to provide state-of-the-art facilities and patient-friendly services, the latest construction project for St. John's includes a new façade, in-patienttower with eight floors, community areas, and conference rooms. The new patient tower brings the total number of beds to nearly 1,000.
"Ample technology was not originally built into patient rooms with very few connections available," explains Ian Flanders, manager of network services for St. John's. "We've seen huge technology changesin the healthcare industry, and the new patient tower is an opportunity for us to refresh our network and support our initiative to move to an electronic healthcare record system that enables doctors and nurses to look up information at bedside computers."
According to Flanders, St. John's will be deploying Epic Systems Corp.'s (www.epicsystems.com) EpicCare inpatient clinical system that connects doctors and nurses to a single, longitudinal record. The system ensures that treatment decisions are based on the most up-to-date information, and that care is well coordinated when patients are treated by multiple providers.
"The use of EpicCare boosts patient care and productivity by essentially replacing the use of traditional paper charts and portable computer carts that we currently roll around from room to room," says Flanders. "We will be integrating this system into the new patient tower, and then hope to eventually integrate itinto the rest of the hospital."
When it came time to design the network for the patient tower, which opened in December 2007, the 2006 ratification of the 10GBase-T (802.3an) standard by the Institute of Electrical and Electronics Engineers (IEEE; www.ieee.org) gave St. John's the opportunity to specify a copper cable certified to support10 GbE. "We realize that when it comes to futureproofing our network, the most significant investment is in the cabling infrastructure," says Flanders. "We also realize how disruptive recabling can be in a hospital environment, and we don't want to have to recable the new patient tower for at least another 15 years."
Making the decision
For the network cabling infrastructure in the patient tower, St. John's settled on Hubbell Premise Wiring's (www.hubbell-premise.com) NextSpeed Ascent 10GbE shielded twisted-pair copper solution with LANmark foiled twisted-pair (FTP) cable from Berk-Tek (www.berktek.com). Backed by a 25-year warranty and system performance guarantee, the solution includes shielded copper components designed to meet or exceed the proposed channel performance specifications of the then-current Augmented Category 6 draft standard for 10 Gig, with low-level alien crosstalk (ANEXT) connectivity. The Augmented Category 6 standard has since been officially approved by the Telecommunications Industry Association (www.tiaonline.org).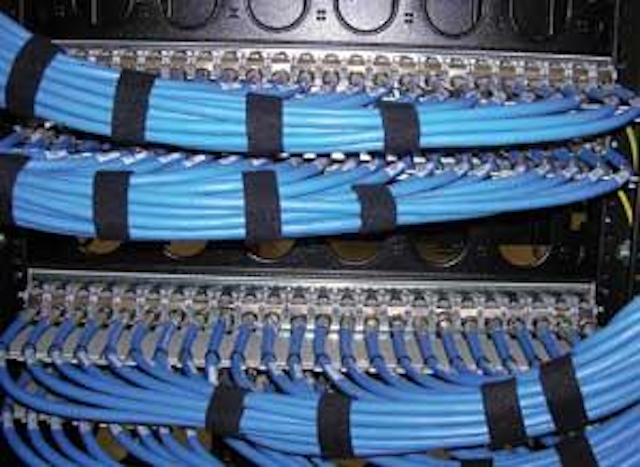 The trauma center selected a 10-Gig shielded solution with die-cast jacks because they believed it would solve ANEXT better than UTP would, eliminate the need for time consuming ANEXT testing, and prevent EMI/RFI concerns in the hospital environment.
Click here to enlarge image
"Back when we started designing the infrastructure for the network, 10-Gigabit copper solutions were still in their infancy and no one knew exactly what the best option would be for overcoming the alien crosstalk issue," says Flanders. "We realized that a shielded solution would solve alien crosstalk better than UTP [unshielded twisted-pair] while also eliminating the need for time-consuming testing of the alien crosstalk performance parameter. There is also a lot of EMI/RFI [electromagnetic interference/radio-frequency interference] in the hospital environment, which the shielded cabling prevents."
According to Flanders, overall cable diameter was another deciding factor. "While 10-Gig UTP copper cable is now coming down in size, at the time we had to make a decision, shielded cable was smaller," Flanders explains. "While going with shielded was a group decision that involved all stakeholders, it was a decision that I really believed in. I had experience working with shielded cabling overseas where it's the standard, and I believe it's the better choice despite the myths here in the U.S."
Hubbell and Berk-Tek solutions had been previously deployed in other areas of St. John's Health System facilities and, according to Flanders, "the hospital wanted to protect the 25-year warranty because it's a level of assurance that we feel better having. We also believe we're getting value. The jacks are high quality, the products are fast to market, and there is a wide range of solutions to choose from." The NextSpeedAscent shielded jacks feature a mechanical die-cast construction design for durability in the healthcare environment.
Verifying 10-Gig performance
CIS Data Services, LLC (www.cisdataservices.com), which provides structured cabling and network installation services for the hospital, further verified the performance of the Hubbell/Berk-Tek solution through testing.
"Back when the hospital moved from Category 5e to Category 6, we did comparison testing of various vendors" components and combinations to confirm that we wereimplementing the right solution," says David Turner, president of CIS. "While we didn"t find any one solution or com-bination that reigned on all levels, we certainly found that the Hubbell/ Berk-Tek solution provided consistent margins. We already had great distribution and excellent relationships with both, so we were very comfortable in evolving with this solution."
When St. John's standardized on a 10-GbE shielded copper infrastructure for the patient tower, CIS requested additional third-party test results from ETL (www. intertek-etlsemko.com). "Both Hubbell and Berk-Tek agreed to the testing, and we received verified 10 Gigabit Ethernet performance on the chosen system," says Turner.
Facing healthcare challenges
The healthcare industry has experienced a significant increase in sophisticated diagnostic, patient-monitoring, and treatment technology. These constant technological advances make today's hospitals extremely dynamic environments, with a wide range of complicated systems that are constantly evolving while having to meet several regulations and codes. Such environments create unique challenges for hospital cablinginfrastructure and network installations, and St. John's is no exception.
"From a construction point of view, the new patient tower was designed to line up with the floor heights of the existing hospital," says Turner. "The issue is that the existing hospital was built over 50 years ago, and the plenum space was not scaled to accommodate the infrastructures and trades of today. Because we couldn't expand the plenum space, everyone had to be very careful in ensuring that the trays would fit in the space and that the cable fill wouldn't exceed the capacity. That's another reason why we chose the small-diameter shielded 10-Gig cable."
Turner observes, "So far, we haven't encountered too many significant installation challenges, and I hope it stays that way. The hospital environment is challenging enough. There's so much dependency on the ability to move information around, and no other environment we work in comes close to St. John's in keeping ahead of and penetrating new technologies."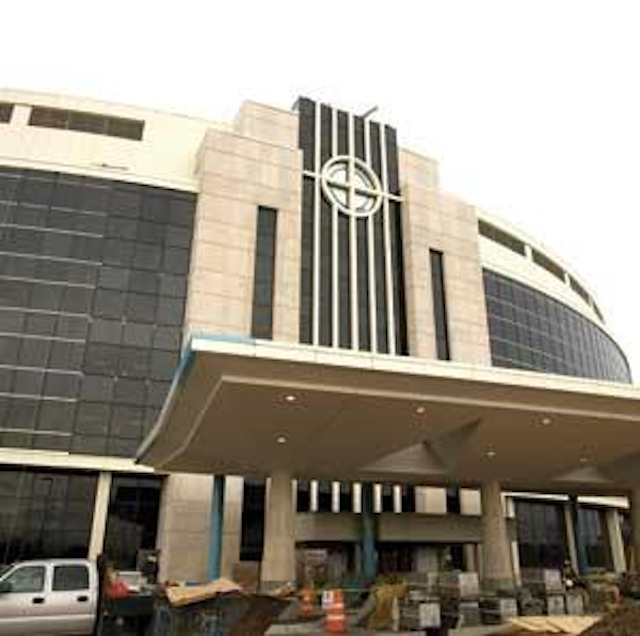 The St. John"s Health System project includes a new façade, in-patient tower with eight floors, community areas, and conference rooms with technology to support an advanced electronic healthcare record system and prepare the hospital for the future.
Click here to enlarge image
In addition to the constant upgrades, every move, add, and change in the hospital setting includes dealing with infectious-disease and air-quality issues. "Like all hospitals, St. John's has an infection-control risk-assessment team that instructs us as to what methods we have to deploy in various locations when installing network cabling," Turner explains. "It can be as simple as moistening ceiling tiles to eliminating airborne dust and limiting the number of open ceiling tiles, or it can be as intricate as sealing off an entire area."
Regardless of the challenges, Turner's number-one goal is to deploy the best-of-breed solution, with test results and quality installation to back it up: "My objective is to provide the hospital with one generation of growth on the physical layer. If I can get them out 10 years, I've done a good job. If I can get them 15, that's even better. The 15-year answer was 10-Gig over shielded."
Turner concludes, "I take my technicians up to the neonatal care unit and point to the cables around the room that connect to the monitoring systems for a premature baby lying in an incubator. This really drives home the real reason that the cabling installation needs to be done correctly, and that what we do is critical."
The new cabling infrastructure for the patient tower consists of 16 crossconnects located in two telecommunications rooms (TRs) on each of the eight floors. At each crossconnect, the LANmark FTP cable is terminatedto NextSpeed Ascent 10GbE shielded jacks housed in 24-port modular patch panels. Approximately 800,000 feet of the FTP cable connects to 4,500 voice and data connections throughout the new patient tower.
"We have an average of six jacks for each patient room," says Flanders. "We"re using the 10-Gig jacks for voice, data, monitoring systems, security cameras, and WiFi access points throughout the new area." Some of the new TRs, Flanders adds, will be located in such a way that they can feed approximately 50% of the existing core hospital, allowing St. John"s to eventually implement additional 10-GbE network connections in existing areas as well as the new patient tower.
Each crossconnect is connected back to the existing main data center via 50-µm laser-optimized multimode fiber. "We originally thought the expansion would be a good opportunity to deploy a new data center," Flanders recalls, "but because the existing main data center is located literally 10 feet off of where the new patient tower is being built, we decided to protect that existing investment. We did, however, add new fiber racks to the data center to support the new TRs."
Now and into the future
St. John's has 10-GbE-capable switches already in place for the backbone fiber infrastructure, with plans to evaluate 10-GbE copper switches when they hit the market.
"We'll start out running Gigabit with the understanding that we can upgrade as needed," says Flanders. "The first areas to see 10GbE in the horizontal will be PACS [picture archiving and communication systems] used for displaying and retrieving large-file-sized medical images. We believe that the Hubbell/Berk-Tek 10-Gig shielded solution provides us with more headroom for new and future advanced medical technologies."
MICHAEL O'CONNOR is technical marketing director for Hubbell Premise Wiring Inc. (www.hubbell-premise.com), a subsidiary of Hubbell Inc.